Equipped to Lead and Succeed
Addressing Opioid Use Disorder
Sara Hamilton, a DNP MPH learner, is focusing some of her degree work on addressing opioid use disorder.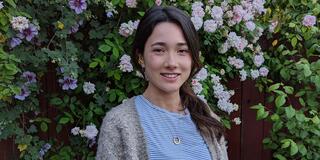 Sara dedicates this piece to her parents, sister, and husband for their support.
As a DNP MPH current student, I'm focusing on addressing substance use disorders among college students, specifically community college students. Drawing from my experience growing up, I'm inspired and fueled to make a difference in young people's lives, shared Sara.
I grew up in a suburb of South Bay and was fortunate to attend a privileged, high-achieving high school that provided many opportunities; however, I couldn't find my passion then and felt lost. Also, my peers and I faced many mental and social struggles and substance use problems. The transition between high school and college proved to be an existential crisis, and I did not know what path to choose. My mom, a nurse from Japan, suggested I start with nursing, and I followed her suggestion. In order to apply for nursing school, I had to complete some pre-requisite courses, so I attended a local community college where many of my friends went as well. In my last year, I lost a good friend to an opioid overdose.
I attended a small private nursing school in Madison, WI,  where I found that I was most interested in mental health. While having mental struggles being away from home and dealing with frigid winters, I sought help from a college therapist. She realized that I had worse substance issues than I knew of and referred me to a substance use counselor who, I believe, not only saved my life but gave me a purpose.
Not long after that, I lost my best friend in California to an overdose. I've lost friends from mental health woes who had such exciting futures. I deeply hope to prevent losing more young, wonderful beings with a future who did not find the right help.
For the last five years, I have worked as a medical-surgical nurse and have figured out my next professional journey toward working in mental health. In 2020, I returned to school and obtained my DNP - PMHNP. I applied to USF because I really appreciate the value-based education philosophy and its compassionate and community-centered approach. After my first semester at USF, I heard about the PMHNP + MPH dual degree. I understood that if I want to lead real change in how youth are able to access mental health, I needed public health education. I have appreciated the work with the public health students and faculty. Actually, I enjoy and learn a lot from the different perspectives the students have and bring to the discussions. This has been important for me and often validating when someone shares their identity with me and my story. It is great to be among inspiring professionals who want to help each other.
Talking with my program advisor, Dr. Curtis, we discussed a policy allowing providers to prescribe medication treatment to minors without parental consent. We are looking into sixteen/seventeen-year-olds with opioid use disorder who can't or don't want to tell their parents. Today they can get counseling but no medication treatment, which we know is integral to a treatment plan. Pursuing this project is exciting and empowering for me, who has struggled with confidence, purpose, and wanting to have an impact.
Last December, Dr. Curtis and I visited Sacramento, mainly to talk to Senator Wiener about this policy. We got some feedback, which was fantastic. We are restrategizing our approach. I'm now passionate about using my skills and education to make a significant change to prevent or reduce the harm of untreated substance misuse.
As part of my clinical practice for the PMHNP program, I am working at a community college in their mental health and wellness services. Community colleges are much less resourced than four-year universities, so I would love to see a PMHNP bring better access to mental health services. I can imagine a PMHNP leading campus-wide assessments and screenings for all students and treating students who need immediate help. Then my public health knowledge will help to create or support policy or make school-wide policies and programs.
My professional journey is an aspirational journey to make an impact, and I'm not alone. I have the support of faculty, my fellow students, and the USF community!