Engaged Learning
Students and Faculty Help with Vaccination Effort
Koret Center transformed into a Kaiser vaccination center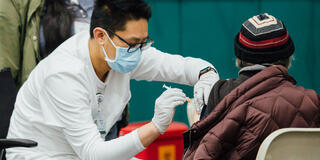 The patients are in their 70s, 80s, and 90s. One is a 104-year-old nun.
"They loved seeing all of the USF nursing students on the front line helping to stop the pandemic from progressing," said Norman Feng '23, a sophomore nursing major who helped give COVID-19 vaccinations this month at a newly organized Kaiser Permanente vaccination center hosted by the Koret Center on the USF campus.
"Just hearing that from the patients really motivated me to do more nursing," Feng said. "I now know I really want to do this for the rest of my life."
Three dozen students and two professors worked the first week at the Koret clinic, which opened Feb. 8 in partnership with Kaiser Permanente. The first day, more than 250 Kaiser members were vaccinated.
Supervised by faculty, the nursing students assist Kaiser staff with all clinic operations, including preparing and injecting the vaccinations. The students have completed a COVID-19 educational program, including one course on immunization best practices and another on the Moderna and Pfizer vaccines, and attended sessions on the impact of COVID-19 on public health. The students have administered both types of vaccine.
The students and faculty will staff the clinic, in partnership with Kaiser Permanente, for the remainder of the semester.
People for Others
At Koret, three basketball courts in the practice gym have been turned into a waiting area, with socially distanced seating adjacent to vaccination stations staffed by nursing students, who are partnered with Kaiser nurses.
Many patients do not speak English, said Susan Prion, professor and associate dean of nursing. "The fact that so many of our students are bilingual or trilingual has been incredibly helpful," she said. "So many of our students speak Tagalog, Cantonese, Mandarin, and Spanish, and it's been helpful to explain things to clients in their preferred language."
Students and faculty are also assisting at other community vaccination sites in the Bay Area, Orange County, and Sacramento. Professor and Assistant Dean Alexa Curtis has been volunteering at La Familia Maple Neighborhood Center in Sacramento, where organizers are reaching out to the Latino community, which includes farm workers who they say are not receiving enough information about where to get a vaccine.
Sacramento campus nursing students helped Mather VA Hospital vaccinate more than 700 veterans. In Orange County, graduate nursing students are staffing vaccine clinics operated by Dignity Health and Cedars Sinai Hospital.
Meeting People Where They Are
In addition to helping in the vaccination clinics, the School of Nursing and Health Professions is helping to vaccinate San Francisco's clergy who are 75 and older, including some Jesuits at Loyola House on Lone Mountain and some Sisters of the Presentation, who live in a convent near the USF campus.
Timothy Godfrey, S.J., assistant professor of nursing and rector of the Jesuit community at USF, is helping organize the vaccinations for the religious community. Godfrey and Prion vaccinated the cloistered sisters of the Carmelite Monastery of Cristo Rey, on Parker Street across from St. Ignatius Church. There, they vaccinated the nun who is 104.
"We will continue to work until we get every religious in San Francisco vaccinated," Prion said.
At a time when it has been difficult to place all USF nursing students in clinical rotations because of coronavirus lock downs at health care facilities, Prion said the vaccination clinics have proven to be the best clinical rotation the students could have.
"We are making lemonade out of lemons and creating a meaningful learning experience for our students," Prion said.
"I am so proud of our students," she added. "They're at the beginning of their nursing careers, and they are making a difference."
Image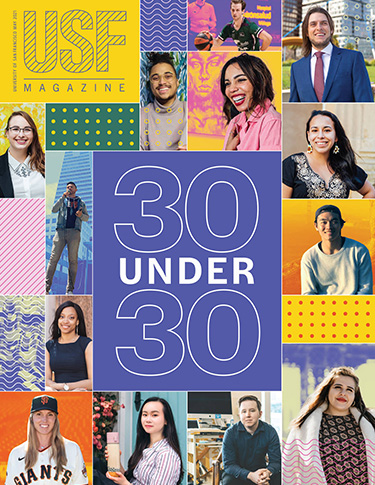 Featured in USF Magazine
This USF News story was published in USF Magazine, where you can find feature stories about university life, alumni Class Notes, and information about events at USF.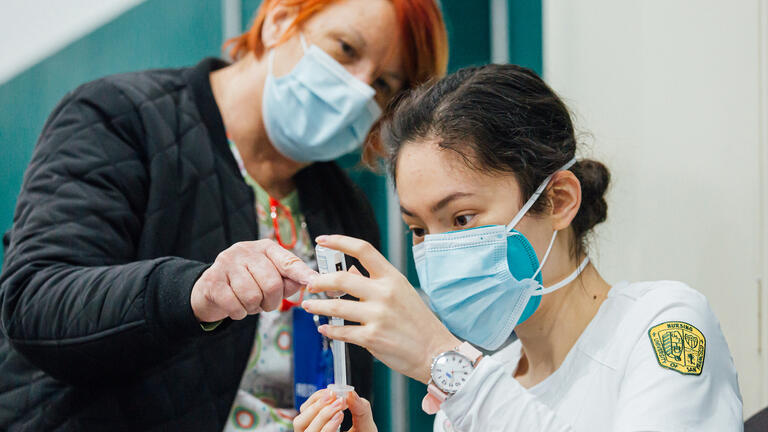 USF nursing student talks with patient at vaccination clinic in Koret Center.
Kaiser Permanente nurse shows USF nursing student how to draw the vaccine from the vial.