Engaged Learning
"It Was Really Sad to See"
Student who works in U.S. Senate comments on destruction in D.C.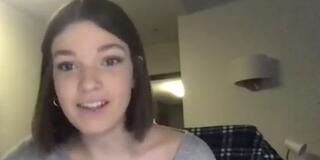 When protesters stormed the Capitol Building last Wednesday, congressional staffer Lauren Giddings '23 couldn't believe what she saw.
"I've grown to love D.C., and it was really sad to see everything that happened last week," she said. "I work in the Senate. I work in the Capitol building. To see a building that's almost sacred be stormed, that was really sad."
Many congressional staffers were urged to stay home last Wednesday, in anticipation of protest and the possibility of violence over the counting of electoral votes for U.S. president. Giddings, who is 19, heeded the advice.
"It's been an interesting experience," Giddings said. "I have friends who were there, which was scary."
Giddings works for Sen. Mike Lee, R-UT. During the vote to certify the election votes the day after the riot, Sen. Lee held a pocket-sized copy of the U.S. Constitution and called on his colleagues to uphold the document and certify the election.
Giddings, who grew up in a small town near Logan, Utah, is majoring in politics and minoring in philosophy. She counts Professor Ron Sundstrom as her favorite USF teacher and a primary influence on her decision to pursue a philosophy minor.
In June, she started working as an intern for Sen. Lee and is now a staff assistant living in Washington. She's researching health care, education, labor, and pension issues, and taking USF classes remotely. Giddings moved to Washington during the Black Lives Matter protests after George Floyd was killed.
"There were curfews in place, I wasn't allowed to take the Metro, and everything was boarded up," she said. "But still I would say the destruction was less than what happened on Wednesday. And the majority of (BLM) protests I saw were mostly peaceful."
The contrast isn't lost on Giddings.
"I think we're at a really interesting time in American politics and society in general," she said. "There have been systemic issues that have been boiling over for so long that people haven't seen solutions to and haven't gotten answers to."
Change is necessary, she added.
"I think this has taught both political parties and even centrists that the way this is working — actually, the way that politics and our justice system are not working — is so polarizing and something has to change."