Alumni
A 25 Year Bond: Three Nurse Friends Stick Together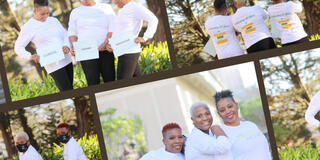 Kim J. Scott '97, Esker-D Ligon '97, and Shelitha R. Campbell '97 met at USF's School of Health and Nursing Professions over 25 years ago. They spent their undergraduate years studying to become nurses while creating a foundation of trust and care that would become the backbone of their friendship.
Resilience in Unity
The trio continue to rely on each other as they face nuanced challenges in the industry as Black nurses.
Campbell serves in the role of co-director of the family nurse practitioner program at Samuel Merritt University. In addition, she teaches students in the clinical setting, and is involved in the hiring of diverse talent in the nursing field.
Ligon is a Psychiatric Nurse Practitioner (PMHNP) at an outpatient clinic. Her role involves performing psychiatric evaluations, making recommendations for treatment, and care coordination.
"Some clients feel more comfortable working with someone who looks like them, especially given the historical stigma of mental health in communities of color," said Ligon.
She battles with an industry shortage of mental health professionals, where Black providers are underrepresented.
Scott is a nurse leader, and manages nurses and social work case managers. She knows she is making a difference by helping her team become better care providers. Scott is also the co-author of the book, The Diaries of a Resilient Black Nurse: An Anthology of Struggles and Achievements of Black Nurses in America.
"The Black nurses' experience is layered with enduring discrimination, unfair treatment, microaggressions, abuse, and being sacrificed" said Scott. "We, Black Nurses have to work harder than our White counterparts, are often over qualified and overlooked for promotion/elevation, but we are resilient despite all of the injustices we experience… It feels like it is in our DNA to forgive and move on."
Friendship as a Lifeline
During the pandemic, they all had major shifts in their professions. Through the battles of isolation, burnout, and mental health, Campbell, Ligon and Scott were able to offer each other indispensable support.
Ligon shared, "With the increased focus on mental health during the pandemic, we became busier and it was exhausting at times. Having friends with an intimate understanding of the challenges of providing care while trying to maintain an altered work-life balance was invaluable."
The support that the trio provided to each other during nursing school helped ensure their individual success back then, but also became the template in which they supported each other through career tribulations and life hardships.