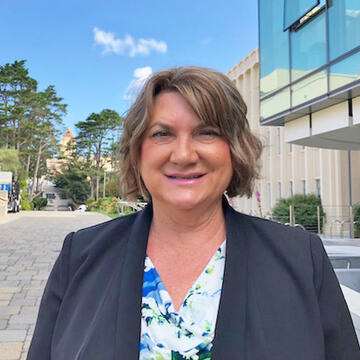 Trinette Leeann Rasada, DNP, ACNS-BC, FNP-BC, PMHNP-BC
Assistant Professor, Director Nurse Practitioner Programs
Biography
Dr. Radasa graduated from New Mexico State University with a BSN in 1999 and an MSN in 2002. Her MSN track was as a Medical-Surgical Clinical Nurse Specialist. Between 2011 and 2016 she attended University of Texas at El Paso (UTEP), where she received first her Post Master's Certificate in the FNP, then a Doctor of Nursing Practice (DNP) degree and a second Post-Masters Certificate in Psychiatric Mental Health Nurse Practitioner. Dr. Radasa has taught in the BSN & MSN programs at New Mexico State University for 10 years between 2002 and 2010. Subsequently, she left her teaching position and began working full-time as a Family Nurse Practitioner at an Urgent Care while simultaneously pursuing advanced nursing degrees. She returned to teaching in 2013 at the University of Texas, El Paso, where she was pursuing her advanced nursing degrees. While at UTEP, in addition to teaching, she continued working part-time at a Psychiatric Mental Health Clinic.
Dr. Radasa's Teaching Philosophy:
I am a strong believer in life-long learning and I love teaching adult learners. It is important to me that students have a mentor and are provided support through their learning process. I want to be that mentor and set an example of success. Many of these students are first generation college students and my goal is to assist them through the learning process meanwhile emphasizing the core values of nursing.
Appointments
Program Director, Psychiatric Mental Health Nurse Practitioner DNP, 2018
Education
Post-Masters Certificate Psychiatric Mental Health Nurse Practitioner, New Mexico State University, 2016
Doctorate Nursing Practice, University of Texas at El Paso, 2015
Post-Masters Certificate Family Nurse Practitioner, University of Texas at El Paso, 2011
PhD Nursing (ABD), University of New Mexico, 2010
Master of Science Nursing, New Mexico State University, 2002
Bachelor of Science Nursing, New Mexico State University, 1999
Selected Publications
Peer-reviewed Publications
Keller, T., Borges, W., Hoke, M., & Radasa, T. (2011). Promotores and the chronic care model: An organizational assessment. Journal of Community Health Nursing, 28,1-11. DOI: 10.1080/07370016.2011.564060
Additional Information
Licenses & Certifications
Adult Clinical Nurse Specialist, ANCC 2005 - present
Family Nurse Practitioner, ANCC, 2011 - present
Psychiatric-Mental Health Nurse Practitioner 2016
Professional Memberships
2001 - present: Sigma Theta Tau International Society of Nursing
2006 - present: National Association of Clinical Nurse Specialists
2007 - present: National Hispanic Nurses Association
2011 - present: American Academy of Nurse Practitioners
2011 - present: New Mexico Nurse Practitioner Council
Research & Presentations
Editorial Review Board(s)
Research and Theory for Nursing Practice An International Journal
Research
Does Leg Crossing Affect Blood Pressure? Supervised by Dr. Becky Keele-Smith, NMSU Nursing faculty member. Role: Data collector.
Mexican American Parents' and Adolescents' Perceptions of Diabetes. Southwest Partnership Center for Health Disparities Research, an NIH funded P-20 center Pilot project. Co-Investigator, funded for $3,000.
Tailoring Diabetes to Optimize Outcomes. Centers for Medicare and Medicaid Services Grant. Co-PI. 2005-2008.
Explanatory Models of Migraine: A Qualitative Study, Doctoral class study-Co-PI. Summer 2007.
Presentations
A Descriptive Analysis of Role Support for Promotores in the Chronic Care Model Co-presenter 9/07 Southwestern Partnership Conference
Tailoring Diabetes to Optimize Outcomes. Centers for Medicare and Medicaid Services Grant. 7/07 National Hispanic Nurses Association Conference.
WIN Conference Poster Presentation of Doctoral Studies titled, Promotoras: A Concept Analysis 4/07 Sleepy Teens: Are Teenagers Today Sleep-Deprived? Presenter @ Head-to-Toe Conference 4/11
Implementing Recommendations For Assessment & Prevention Of Adolescent Overweight & Obesity At A School-Based Health Center 5/2015 Doctoral Presentation