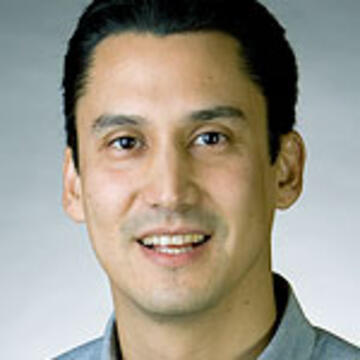 Mark Miller
Associate Professor
Department Chair
Full-Time Faculty
Biography
Mark Miller is associate professor of systematic (philosophical) theology.  His mother came from the Philippines, his father from Maine, and they met in the middle as students at USF in the 1960s.  His specialty is human development and redemption, particularly our ongoing, communal conversion to greater knowledge, love, and service of God and all things.  His PhD dissertation is entitled, "Why the Passion?: Bernard Lonergan on the Cross as Communication." His undergraduate degree concentrated on Humanities in International Affairs.
Professor Miller has taught at Ateneo de Zamboanga, University of Asia and the Pacific, Boston College, Georgetown University, Santa Clara, and Seton Hall (as inaugural Toth/Lonergan Endowed Visiting Chair), as well as at Mt. Calvary Elementary School in Forestville, MD and Bishop Gorman High School in Las Vegas, NV. At USF he teaches in Catholic Studies, Philippine Studies, and the St. Ignatius Institute. He helps coach the USF Taekwondo Club/Team.
Expertise
Anthropology
Soteriology
Political theology
Trinity
Christology
Appointments
Chair, Department of Theology and Religious Studies
Associate Director, St. Ignatius Institute (2013 - 2020)
Education
PhD, Theology, Boston College, 2008
MA, Theology, Boston College, 2004
Philosophy and Theology, Eberhard-Karls Universität Tübingen, 1995, 1998-1999
BS, Foreign Service, Georgetown University, 1996
Selected Publications
"The Inner Word and Outer Word: Eckhart, Jüngel, and Lonergan on Trinitarian Knowing and Naming of God," MST Review, 2023.
"Postmodern Suspicion and Lonergan's Conversions" in Responding to the Post-truth Culture. New Delhi: Christian World Imprints, 2023.
Worldview of Everything: A Contemporary First Philosophy, by Brian Cronin. Eugene Oregon, Pickwick Publications, 2022 (editor).
"A Three-Stage Conversion in Kierkegaard's Fear and Trembling." Divyadaan: Journal of Philosophy and Education, 28(1): 133-170, 2017.
"Perseverance in the Good: Inner Dimensions of Anselmian Satisfaction." In Grace and Friendship: Theological Essays in Honor of Fred Lawrence, eds. M. Shawn Copeland and Jeremy D. Wilkins. Milwaukee: Marquette University Press, 2015.
"Lonergan's Conversions and Malcolm X's Autobiography." Lonergan Workshop Journal, 28, 2015.
The Quest for God and the Good Life: Lonergan's Theological Anthropology. Washington, DC: The Catholic University of America Press, 2013.
"Imitating Christ's Cross: Lonergan and Girard on How and Why." The Heythrop Journal, 2012.
"Conversion as Life, Death, and Resurrection." Lonergan Workshop Journal, 25: 197-221, 2011.