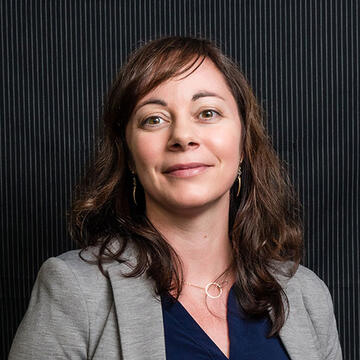 Marie-Claude Couture
Associate Professor; Health Professions Department Chair
Department Chair
Full-Time Faculty
Biography
Marie-Claude Couture has more than fifteen years of experience leading public health studies in local and international settings, including Haiti, Cambodia, Ghana, Thailand, and the Ivory Coast. She built a solid academic background in epidemiology and public health with research interests in substance use, infectious diseases, gender-based violence, sexual and reproductive health, and social determinants of health in diverse, underserved and marginilized populations. Marie-Claude has been principal investigator, co-investigator, and collaborator on several research projects with multidisciplinary teams from academia, government, and the community. She is an author of more than thirty-three peer-reviewed articles and has had presentations at different national and international scientific meetings.
Expertise
Epidemiology
Data analysis
Quantitative research methods
Survey design
Research Areas
Substance use
Infectious disease transmission
Violence and victimization
Social determinants of health
Digital health
Appointments
Chair, Health Professions Department, SONHP
Chair, Digital Teaching and Learning Committee, SONHP
Member, Public Health Working Group, USF Public Health Advisory Committee
Member, Join University Curriculum Committee
Chair, Program Admission Committee, Master of Public Health
Education
Université de Montréal, Montreal, Canada, PhD in Public Health, epidemiology
McGill University, Montreal, Canada, MSc, Masters in Biochemistry, molecular biology
Université Laval Quebec, Canada, BSc, Bachelor in Microbiology
Prior Experience
Postdoctoral Fellow, University of California San Francisco, Institute for Global Health Sciences
Epidemiology and Microbiology Consultant, Centre de Coopération International en Santé et Développement, Quebec, Canada
Awards & Distinctions
Young Investigator Travel Award, International Conference on Global Health, 2013
Postdoctoral Fellowship, Canadian Institutes of Health Research (CIHR), 2009
Doctoral Fellowship, Canadian Institutes of Health Research (CIHR), 2006
Selected Publications
Couture MC, L'Engle K, Swathi PA*, Regan A. COVID-19 vaccine coverage among college students following vaccine mandates. (Accepted at Journal of American College Health)
Couture MC, Kang JE*, Hemenway D, Grinshteyn E. Associations between having been threatened or injured with a weapon and substance use and mental health among high school students in the United States. (2021) Int J Inj Contr Saf Promot. Dec 19:1-10. Epub ahead of print. PMID: 34923925.
Evans JL, Couture MC, Carrico AW, Stein ES, Sokunny M, Maly P, Len A, Ngak S, Sophal C, Neak Y, Maher L, Page K. (2021) Joint effects of alcohol and stimulant use disorders on sexually transmitted infection in a prospective study of Cambodian female women entertainment and sex workers. Int J HIV/AIDS. 956462420964647. Epub ahead of print.
Couture MC, Garcia D, Whaley R*, Grinshteyn E. Effect of fear of victimization on hazardous alcohol drinking, tobacco, and marijuana use among university students: A tale of two sexes. (2020) Addict Behav. 2020;106:106355.
Couture MC, Evans JL, Sokunny M, Maly P, Len A, Song N, Sophal C, Neak Y, Stein ES, Carrico AW, Maher L, Page K. Syndemic psychosocial health conditions associated with recent client-perpetrated violence against female entertainment and sex workers in Cambodia. (2020) Arch Sex Behav. 2020;10.1007/s10508-020-01705-y.
* Student co-author