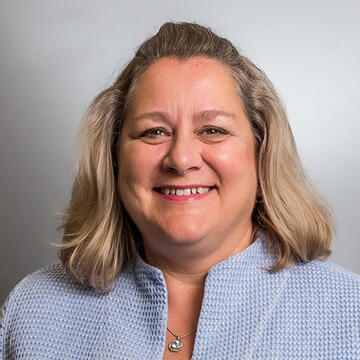 Elizabeth Cooper
Faculty Emerita
Expertise
Clinical Systems Management
Cardiovascular Intensive Care
Adult Health
Professional Development
Research Areas
Nursing education
Assessment surveys
Patient and student outcomes
Appointments
Program Evaluation Committee
Distinguished Research Committee
Academic Standards Committee
Education
RN Diploma, Abbott-Northwestern School of Nursing
BS, College of St. Francis
MSN, University of San Francisco
DNP, University of San Francisco
Awards & Distinctions
Member of Sigma Theta Tau Honor Society of Nursing
Selected Publications
Cooper, E.  (2003).  Pieces of the Shortage Puzzle: Aging and Shift Work. Nursing Economics,  21(2),  75-79.
Cooper, E. (2008).  VRE: How you can stop the spread of this drug-resistant organism.  RN, 71(2), 27-31.
Cooper, E. (2009).  Creating a culture of professional development. The Journal of Continuing Education in Nursing, 40 (11), 501-508.
Additional Information
Licensure & Certification
Licensed professional registered nurse in California
Certified Nurse Leader (CNL)
Certified Nurse Educator (CNE)
Professional Memberships
Sigma Theta Tau Honor Society of Nursing
California Nursing Association
American Association of Critical Care Nurses
local and national member)
American Educational Research Association
National League of Nurses
Research
Current focus: professional development & mentorship
Began mentorship program at UCSF April 2010
Consultant for mentorship program at UCSF 10ICC
School of Nursing safety issues
Service
BSN Co-Chair
Quality & Safety Officer
Member of the Administration Council
Member of the Academic Standards Committee
Member of the Distinguished Research Committee
Member of DNP Advisory Board
Member of the QSEN Resource Team
Sigma Theta-Tau Beta Gamma Chapter
Past Member of the SON Search Committee
Past Member of the Program Evaluation Committee
At the University of California, San Francisco Medical Center:
Member of the Nursing Performance Improvement Executive Committee
Presentations
April 20, 2010- Mentor Pilot Program to the cardiovascular intensive care staff
June 17, 2010 led Mentor Meeting in 10ICC UCSF
September 29-30,2010 poster presentation at the Third National DNP Conference:
"Creating a Culture of Professional Development: A Milestone Pathway Tool for Registered Nurses"
March 17 & 18, 2011- Poster presentation at the 21st Annual Medical-Surgical Nursing Conference. "Creating a Culture of Professional Development: A Milestone Pathway Tool for Registered Nurses"
March 16, 2011 Presentation to the UCSF 10 ICC mentorship participants. "Mentorship Games verses Joy Stealing Games"
April & May, 2011 present Quality and Safety reporting findings to faculty and students in multiple meetings.
May 31-June 2, 2011 – Poster presentation at the 2011 QSEN National Forum. "Reporting Errors & Near Misses: Creating a Just Culture Transparency for Both Faculty & Nursing Students"
June 15, 2011 Podium presentation at the San Francisco Bay Area QSEN Faculty Development Year 1 Follow Up Meeting.
September 19, 2011 presentation to USF SONHP faculty on the One year summary of QSEN Outcomes
September 29, 2011 podium presentation at the 4th National Doctoral of Nursing Practice Conference: Impacting Health Care Policy. "Creating a Culture of Blameless Reporting & Transparency in Nursing Education"