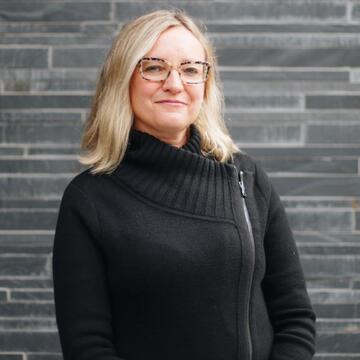 Alice Fiddian-Green
Assistant Professor
Biography
Alice Fiddian-Green (she, her, hers) is Assistant Professor in the MPH program in the School of Nursing and Health Professions. Alice specializes in the application and analysis of digital and visual participatory research methods to examine social, structural, and racial inequities as they pertain to reproductive health and justice. Alice was certified as a Digital Storytelling facilitator in 2015. Since then, she has co-facilitated and worked on digital storytelling projects in a range of classroom, research, and community contexts. Alice 's current research examines the intersections between structural and interpersonal trauma, mental health, and substance use among pregnant people and mothers.
Expertise
Digital storytelling
Visual and digital participatory research methods
Qualitative data collection and analysis
Arts-based research methods
Research Areas
Perinatal and maternal substance use disorders
Violence (structural and institutional) and trauma
Reproductive health and justice
Education
UMass Amherst, PhD in Public Health, 2019
UMass Amherst, MPH in Health Promotion and Policy, 2013
Prior Experience
Assistant Professor of Health Promotion, Springfield College
Awards & Distinctions
Health Promotion Practice Journal- 20th Anniversary Special Collection, 20 for 20 Publication selected for 20 for 20: top 20 list of research articles promoting radical practice published in the journal between 2000 and 2020, 2020
Rho Chapter of Delta Omega at UMass Amherst School of Public Health and Health Sciences. Exemplary Graduate Student Inductee, 2020
NIDA International Women's and Children's Health & Gender Group, Travel Award, 2019
UMass Amherst, Dissertation Fellowship- Center for Research on Families, 2018-2019
Selected Publications
Fiddian-Green, A. & Gubrium, A. (2022). Digital Storytelling as a Tool for Critical Narrative Research, In A. Ruth, A. Wutich and H. R. Bernard (Eds.) The Handbook of Teaching Qualitative and Mixed Research Methods: A Step-by-Step Guide for Instructors. Routledge Press.
Fiddian-Green, A., & Gubrium, A. (2021). Critical Narrative Intervention for Health Equity Research and Practice: Editorial Commentary Introducing the Health Promotion Practice Critical Narrative Intervention Special Collection. Health Promotion Practice.
Fiddian-Green, A., Kim, S., Gubrium, A., Larkey, L. & Peterson, J. (2019). Restor(y)ing Health: A Conceptual Model of the Effects of Digital Storytelling on Socio-Emotional Wellbeing. Health Promotion Practice,
Fiddian-Green, A. (2019). "Cross-Cutting Narratives of Opioid Use Disorder Among Pregnant Women and Mothers: Implications for Humanistic Care." Doctoral Dissertations. 1718.