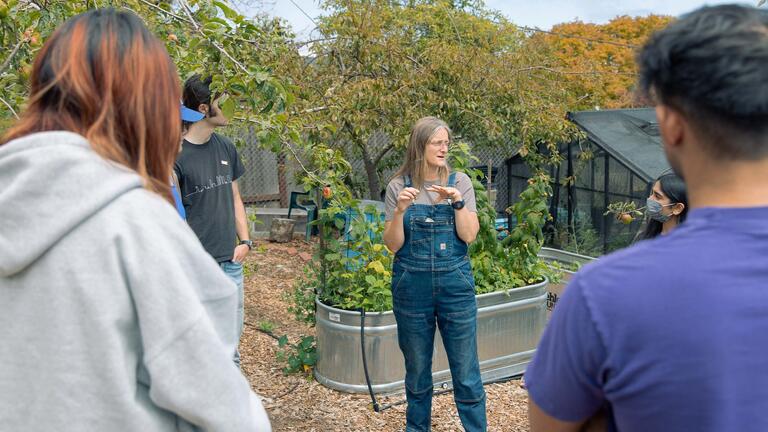 Environmental Studies, BA
Careers
What Can You Do With an Environmental Studies Degree?
City Planning
As urban populations continue to swell, city planners play an increasingly vital role in finding sustainable ways to develop urban land and infrastructure. City planners collaborate with local municipalities on zoning, land use, public health, transportation, and housing. According to the Bureau of Labor Statistics, employment of city and regional planners is expected to grow 16 percent from 2010 to 2020.
Urban Design & Architecture
Urban design incorporates city planning, architecture and landscape architecture to create a more livable, scenic and sustainable environment. It's about improving how residents navigate their city by leveraging and highlighting a city's physical qualities. A BA in Urban Studies can provide a solid grounding for 2-3 graduate degrees in Architecture and Urban Design.
Nonprofit Organizations
Community service agencies, advocacy groups and hospital, retirement and rehabilitation centers (to name a few) are always looking for skilled grant writers, researchers, fundraisers, managers and counselors. Consider double majoring or minoring in an area that you could specialize in.
Law
Land use law is a significant component in the development of urban land. Lawyers specializing in land use law help developers navigate issues of property rights and local developmental controls.
Local Government
An Environmental Studies degree is well suited to jobs in local politics and governance. Graduates could well serve in mayors' offices, for city council members and city managers, as well as public policy think tanks. Students can look into the possibilities of a Masters in Public and Urban Affairs, offered at USF, for careers in urban politics, city governance and public policy.
Employers
Here is a partial list of companies that our alumni have worked for:
BioMarin Pharmaceutical, Inc.
Blue Energy
California Academy of Sciences
City of Seattle
CLEAResult
Digital Realty
East Bay Municipal Utility District
Foggy River Farms
Hult International Business School
Infab Corporation
Marin School
Marketo
Peterson Mechanical, Inc.
PG&E
Prince Lobel Tye, LLP
Restoration Hardware
Save The Waves Coalition
Seattle Urban Farm Company
SkyAngels
Smart Gardener
Spatial Informatics Group, LLC
Sustainable Economic Enterprises of Los Angeles
Trumpet Behavioral Health
University of Hawaii
Wetland Consulting Services
More Info
For a more comprehensive list of potential career paths, schedule an appointment with a counselor from the University of San Francisco's Career Services Center to chat about your options.