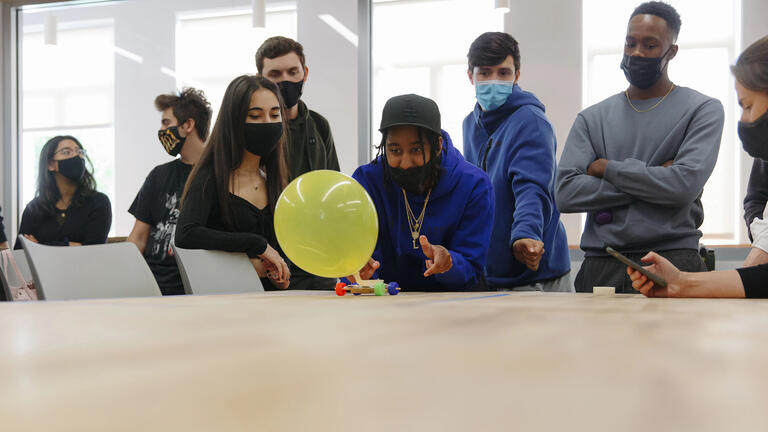 Engineering, BS
Program Overview
The entire field of engineering has entered a new era, one that requires fresh eyes and different ideas to solve the biggest challenges facing the world today. USF is at the forefront of this movement.
Why USF Engineering?
You'll join a program that celebrates what engineering truly is — solving problems big and small to help those in need of big and small solutions. We're all about diversity and communication — being the best means having the most perspectives to consider when analyzing a problem, and then being able to collectively arrive at the strongest result. Which is where you come in. Come build the program along with us.
Summer Zero
The transition from high school to college is both exciting and challenging. We developed Summer Zero, a multi-week program for incoming first-years, to help you get to know your cohort and introduce you to the engineering program and life at USF.
Summer Zero is designed to be a multi-week summer program that will prepare you for life as an engineering student, and help you transition successfully to college. The program is led by key faculty members from engineering and related departments who are eager to teach your courses and serve as your mentors. Our activities will help you to understand your individual talents and assets, and prepare for success as you enter the program. You'll also take math, programming and writing courses, and participate in a fun design project.
The entire incoming cohort is expected to attend Summer Zero, which is planned for the last weeks of summer just before the fall semester starts. Coursework will be supplemented by workshops with a focus on community building, campus resources, and an introduction to the engineering profession. All program costs will be covered.
We look forward to getting to know you and helping you develop bonds that will last throughout your four years at USF and beyond.
Concentrations
In the program's first two years, your cohort will stay largely together, taking most courses together and developing strong bonds and teamwork skills. In the following two years you will develop deeper skills in a single area by pursuing one of three concentrations:
Electrical & Computer Engineering
Learn to design and test various types of electrical equipment, including computer hardware, sensors, biomedical instrumentation, and control systems. Electrical and computer engineers work with every kind of device imaginable. In this concentration, emphasis will be placed on devices used to improve people's lives across the globe, such as low-cost medical diagnostics and alternative energy strategies.
All concentration areas focus on sustainability and on the betterment of peoples' lives, especially in under-resourced communities.
Environmental Engineering
Learn to design systems and products that protect human and ecosystem health and that ensure sustainable development at both regional and global scales. In this concentration, the focus will be on water resources, including improving access to clean water, identifying and mitigating microbial and chemical pollution in water, and promoting strategies for water treatment and reuse.
Sustainable Civil Engineering
Learn to design techniques and solutions that improve the built environment, as measured by a range of metrics, including social justice as a measure of effective design. This concentration encompasses a range of civil engineering elements, from individual building materials to the components of urban infrastructural systems — all of which can be designed to contribute to a sustainable built environment.
Sample Four-Year Curriculum
SUMMER ZERO

Engineering Project
Math
Programming
Writing

FALL 1

Becoming an Engineer
Math 1
Physics for Engineers I w/ lab
Ethics in Engineering
Core or Elective

SPRING 1

Math 2
Programming for Engineers
Physics for Engineers II w/ lab
Science Communication
Engineering Project and Design I

SUMMER 1

Engineering Outreach Immersion

FALL 2

Modeling Sustainable Systems
Multivariable Calculus & Linear Algebra for Engineers
Sensors & Instruments through History
General Chemistry for Engineers I w/ lab

SPRING 2

Math Methods and Computation for Scientists & Engineers
Concentration Area 1 of 4:

Environmental Engineering (ENVE): Chemistry for Engineers II
Sustainable Civil Engineering (SCE): Intro to Structural Engineering
Electrical & Computer Engineering (ECE): Digital Electronics

Engineering Project and Design II
Core or Elective

FALL 3

Probability and Statistics for Engineers
Concentration Area 2 of 4:

ENVE: Fluid Mechanics
SCE: Intro to Construction Materials
ECE: Analog Electronics

Core or Elective
Core or Elective

Note: Students also have the option to participate in study abroad programs.

SPRING 3

Concentration Area 3 of 4:

ENVE: Environmental Engineering
SCE: Experimental Methods
ECE: Advanced Sensors & Instruments

Engineering Project and Design III
Core or Elective
Core or Elective

FALL 4

Concentration Area 4 of 4

ENVE: Water and Wastewater Treatment
SCE: Sustainable Urban Systems
ECE: Feedback Controls

Project IV: Capstone part 1
Core or Elective
Core or Elective

SPRING 4

Project IV: Capstone part 2
Core or Elective
Core or Elective
Core or Elective
Related Minor Programs for Non-Engineering Majors