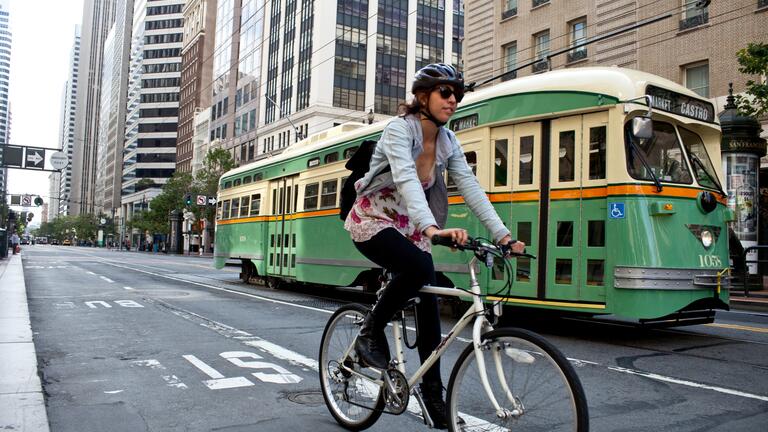 Urban & Public Affairs, MA
Program Overview
The 33-unit program includes community-based research, policy design, policy analysis, advocacy, and implementation in the public, private and nonprofit sectors. Course offerings include: Urban Racial Politics; Community-Engaged Research; Economics of Social Justice; Housing, Community and Policy; and Resource Equity, among other classes.
Our two-year, 33-unit Master's in Urban and Public Affairs offers a range of graduate seminars on urban studies, politics and public policy.
A 200-hour internship is required, as well as a Capstone Project that synthesizes your research and internship experience on a policy area of your choice.
Colloquium
Our weekly colloquium series include visiting lecturers and presentations by faculty, along with career-development training and support. Students register for the colloquium every semester.
Schedule
Our program is full time with courses offered in the afternoons and evenings, plus occasional Saturday workshops. Many electives are offered in the evenings from 6:30–9 p.m. Occasionally electives are offered in the afternoon. Required courses are offered in both the afternoons and evenings. You should be prepared to attend required classes as early as 3:30 or 4:30 p.m. a few times a week. Schedules may vary each semester.
Sample Timeline
Fall

Urban Power Seminar
Elective
UPA Colloquium

Spring

Community-Engaged Public Policy Research
Elective
UPA Colloquium

Fall

Rhetoric of Social Controversy
Elective
UPA Colloquium

Spring

Master's Capstone Project
Elective
UPA Colloquium
Capstone Project
Students complete a capstone project that synthesizes their expertise on a topic related to urban and/or public affairs.
A Defense of Rent Control: The Social Contract and Government Intervention in SF's Housing Market
Organizing Anarchy: Creating Meaningful Change From Local Places
Food Access in the Heart of the City
Reinventing Cities by Reviving Transportation
Innovations in Inclusion and Cultural Competency: The Role of SF Nonprofits in Meeting the Needs of LGBTQ Homeless
The Solidarity Economy: Transitioning to a Sustainable Path for an Uncertain Future
Access to Access: Are Immigrants Fully Served Under the Affordable Care Act?
Lessons from the Best Worst Job Ever