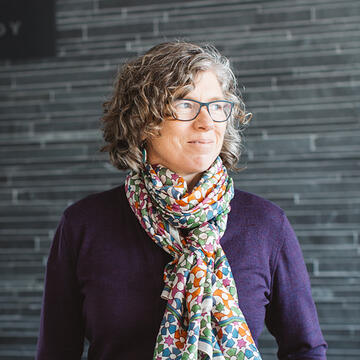 Kathleen Coll
Associate Professor
Biography
Kathleen Coll is a cultural anthropologist whose research and teaching focuses on immigration politics and policies, cultural citizenship, and grassroots community organizing in the U.S., with special emphasis on the San Francisco Bay Area. Her books include Remaking Citizenship: Latina Immigrants and New American Politics (Stanford University Press, 2010) an ethnography of Mujeres Unidas y Activas and immigrant women's activism in San Francisco, a co-authored book Disputing Citizenship (Policy Press, 2014) and a co-edited book, Gendered Citizenships (Palgrave, 2009). Her research interests also include the domestic worker rights movement and campaigns for local voting rights for immigrants in US cities. 
Prior to joining USF's Department of Politics in Fall 2014, Kathleen was a lecturer at Stanford and Harvard Universities. She has been the recipient of postdoctoral and visiting scholar awards at Radcliffe, Harvard, Fondation Maison des Sciences de l'Homme, and CUNY Graduate Center. From 1990 to 1998 she taught at DeAnza and City College of San Francisco and now serves as the Politics major advisor for transfer students. She particularly enjoys teaching community engaged learning courses and supporting USF students in their own community-based research and service projects.
Research Areas
Immigration politics
Citizenship studies
Gender and cultural citizenship 
Grassroots social movements & urban politics
San Francisco studies
Education
Stanford, PhD in Anthropology, 2000
Stanford, MA in Anthropology, 1990
Stanford, BA in Anthropology 1989
Prior Experience
Lecturer, Stanford and Harvard Universities
Distinguished Visiting Scholar, Advanced Research Collaborative, CUNY Graduate Center
Visiting Scholar, Faculty Research Network, New York University
Public Policy Fellow, Radcliffe Institute for Advanced Study
Post-doctoral fellowship, Social Science Research Council
Visiting Scholar, Fondation Maison des Sciences de l'Homme and Columbia University's Reid Hall in Paris
Awards & Distinctions
Co-investigator/principal investigator for a community-led, multidisciplinary research collaboration with Mujeres Unidas y Activas, documenting MUA's history of base-building, leadership development and breaking the cycle of multigenerational violence. Research sponsored by Robert Woods Johnson Foundation and Blue Shield of California Foundation, 2000-2022
USF Provost's Faculty Award for Community Engaged Learning, 2021
USF Latinx Recognition Ceremony Faculty Award, 2017
Stanford University Center for Comparative Studies in Race & Ethnicity Faculty Award, 2014
Selected Publications
Cohen, A, Brahinsky, R., Coll, K. and Dodson, M. (2022) "'We Keep Each Other Safe': San Francisco Bay Area Community-Based Organizations Respond to Enduring Crises in the COVID-19 Era." Russell Sage Foundation J. of Social Sciences Special Issue on The Social and Political Impact of COVID-19 in the United States.

Coll, K. and Ochoa Camacho, A. (2021) "Love in Times of Precarity: A Very Queer Politics of Immigration." Frontiers Journal of Women's Studies. Vol. 42, No. 2: 85-110.

Tudela Vázquez, M.d.P. & K. Coll (2019). "El trabajo que hace posible todos los demás trabajos: Mujeres migrantes en los EEUU promoviendo una ciudadanía de los cuidados a través de la economía social y solidaria." In La economía social y solidaria en un contexto de crisis de crisis de la civilazión occidental: Alternativas ante la migración y la desigualidad de género en México, San Francisco, y Granada. Leila Oulhaj (Coord.), Universidad Iberoamericana, Ciudad de México, México.

Hayduk, R. and Coll, K. (2018). "Urban Citizenship: Campaigns to Restore Immigrant Voting Rights in the US" New Political Science Vol. 40, No. 2: 336-352.

Mitchell, T.D. and Coll, K. (2017). "Ethnic Studies as a Site for Political Education: Critical Service Learning and the California Domestic Worker Bill of Rights" for PS: Political Science and Politics. Vol. 50, No. 1.

Negrón-Gonzales, G., Abrego, L., & Coll, K. (2015). "Immigrant Latina/o Youth and Illegality: Challenging the Politics of Deservingness" Journal of the Association of Mexican American Educators Vol. 9, No. 3: 7-10.

Clarke, J., Coll, K., Dagnino, E. & Neveu, C. (2014). Disputing Citizenship. Policy Press, Bristol, UK.

Coll, K. (2011). "Citizenship Acts and Immigrant Voting Rights in the U.S." for special issue of the journal Citizenship Studies Questions de citoyennetés/Questioning Citizenship. 15(8): 993-1009.

Coll, K., 2010. Remaking Citizenship:  Latina Immigrants and New American Politics. Stanford U. Press, Stanford, California.

Coll, K., Ed. (2010). Tracing the Portola: A San Francisco Neighborhood Atlas. Book and Wheelworks Press, San Francisco. Collaboration with artists Kate Connell & Oscar Melara

Caldwell, K., Coll, K., Fisher, T., Ramirez, R. & Siu, L., Eds. (2009). Gendered Citizenships: Transnational Perspectives on Knowledge Production, Political Activism, and Culture. Palgrave MacMillan, New York.