San Francisco Advantage
Seeing History With Your Own Eyes
Angel Island Trip Sheds Light on Dark Immigration Past
This past fall, several Master's in Asia-Pacific Studies (MAPS) students took a ferry from San Francisco to Angel Island, where they hiked nearly ten miles around the island and experienced a multitude of emotions. Though it provided the students with exquisite views of the Bay Area and gave them many great bonding moments with fellow MAPS cohorts, the trip was also tinged with sadness under the immense weight of history, as Angel Island was used as an immigration station from 1910 to 1940 to process and often exclude the Chinese immigrant population due to the Chinese Exclusion Act of 1882.
During the trip, the students toured the visitor's center, the old military bunkers, and the immigration station — which Bolor Lkhaajav '18 said was the most significant stop of the trip. "Inside the immigration station, the women's bedrooms had all their original belongings, rusty bunk beds, dirty clothes, bags, and shoes. The room had a cold, eerie atmosphere. On the walls, there were written poems, words, names, and their stories, covered by many layers of paint, but you could still see the perfectly carved Chinese characters. It's as if they only had the walls to speak to, write to, and express to."
Seeing all of this had a particularly profound impact on Shuting Li '18, who said, "It was extremely meaningful for me as a Chinese descendant visiting the Angel Island Immigration Center, knowing my ancestors suffered through the Chinese Exclusion Act that had made immigration unusually difficult. They had to go through extensive check ups and endless questions while living in a locked up jail. Angel Island was not a happy place, but was filled with people's sorrow and hopelessness. Some of my ancestors committed suicide because they didn't know when to expect to be able to enter mainland U.S. Others would carve poems on the walls to express their frustration as well as their desire for freedom in the sleepless nights of missing home."
Despite the emotional weight, Li said that hiking the hills of Angel Island and visiting the beaches were highlights of the trip and allowed the students to "see San Francisco from another beautiful perspective." She also said that the trip strengthened the bonds between MAPS students and that she looks forward to similar "cultured, but fun events" within the MAPS program.
Trips like these are frequently offered — the MAPS program has planned to fund a group event at the Asian Art Museum in the near future — and the wealth of history within the Bay Area provides students with a unique opportunity to get out of the classroom and engage with history first hand.
"Outside activities such as visiting the immigration station and the military bunkers give a visual understanding of the materials we read for our coursework," said Lkhaajav. "In a way, it helps to fully understand the historical implications when you see it with your own eyes."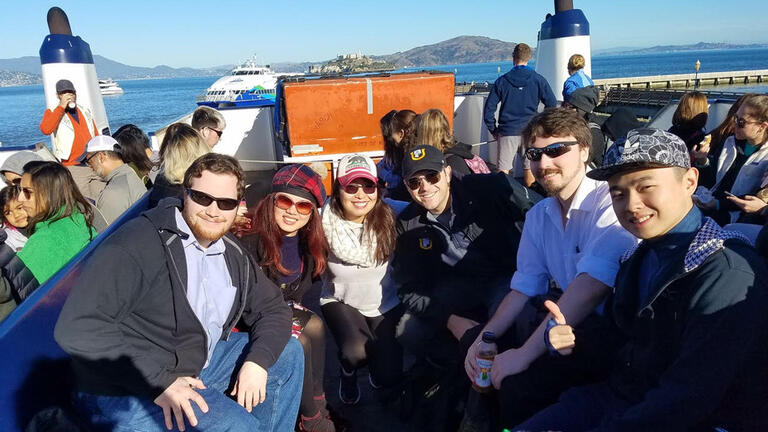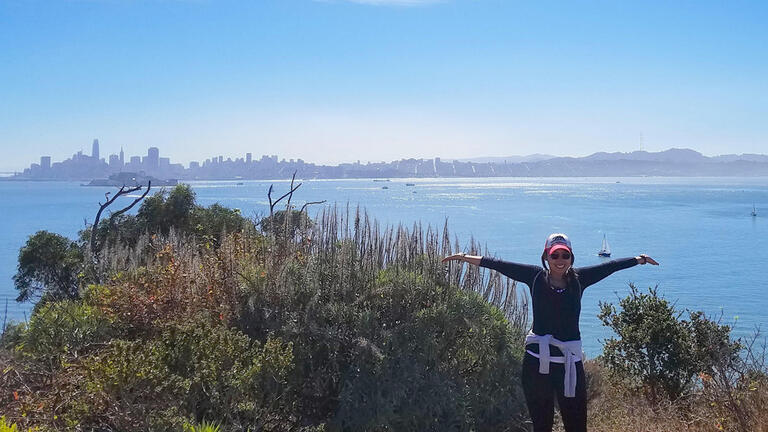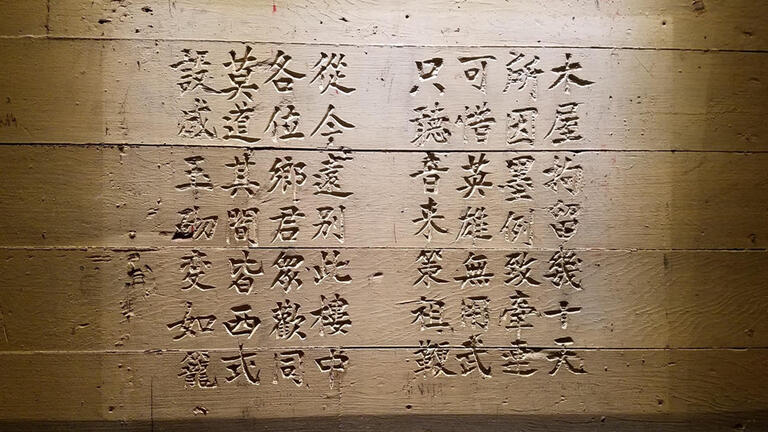 MAPS students take the ferry to Angel Island (from left to right): Lance Ekelund '18, Shuting Li '18, Bolor Lkhaajav '18, Leif Peterson '18, Edward Sterling '18, and Chenyu Jin '19
Bolor Lkhaajav '18 hiking at Angel Island
Original carvings from immigrant detained at Angel Island