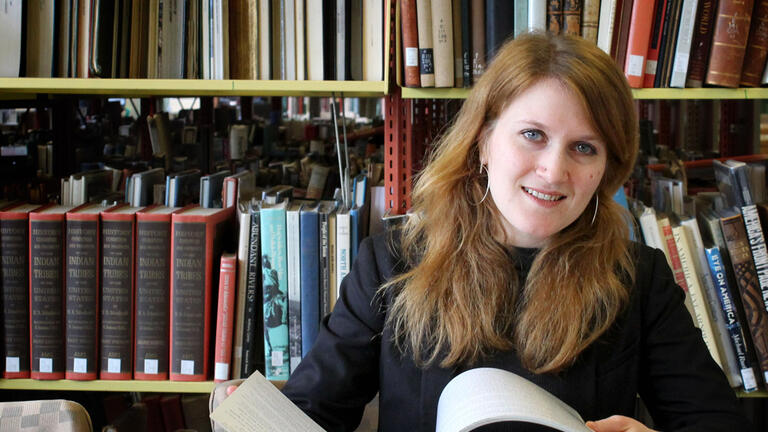 Social Change on Display
When Art History Looks Toward the Future
The art world can be a tricky field to get into, often seeming opaque from the outside. Often people find themselves working in many areas at once: making art, curating, working in galleries and museums. Aubree Mladenovic '15 faces these challenges with a belief in art's ability to effect social change and a sterling work ethic.
Aubree has always been inclined to make, look at, and learn about art. Where she fit into the picture wasn't so easy. The Art History/Arts Management Program (now Art History & Museum Studies) at USF helped her to focus her passion and engage with art in its broader social context, especially on the local level. Since graduating, she has applied this sensibility to her endeavors as an independent curator and as the Registrar at Catharine Clark Gallery.
What attracted you to the Art History/Arts Management program?
I took one art history intro class and I was sold. We got to read interesting stories, visit local galleries and museums, and talk about art history in a way that wasn't only scholarly, but human. The program was so encouraging and inviting. It was a small program, but that was helpful in that all the relationships we formed were that much more significant.
The artistic community in San Francisco is so varied, and I learned so much just by getting out into this huge city of endless opportunities and abundant creativity. From there, I was able to explore my own passion as a visual artist, as well.
Tell me about a memorable project you worked on?
The most memorable project I worked on during the program was the undergraduate Museum Studies class. During the semester, we participated in a very hands-on exhibition, where we curated a show out of the university library's Donohue Rare Book Room collection. From press releases to installation configuration, we got to participate in every aspect of putting on a real exhibition. This was my first experience of the kind and it influenced my interest in pursuing a similar role.
Did you get to do any internships?
The internship program in the Art History/Arts Management major was essential in my career. Through three different internships — at a non-profit organization, a museum, and a commercial gallery — I got an introduction to the various sides of the art world in San Francisco.
The experience I learned the most from was at Yerba Buena Center for the Arts, where I was an intern in the Community Engagement department. I learned how to work with artists, speakers, musicians, and all the other people involved in hosting exhibitions, events, lectures, and public programs. The growth I experienced was personal, in that I learned how to be self-sufficient and improvise during tough situations, and professional in that I learned to apply those skills to my future work. I went on to curate monthly art shows at a local coffee shop for three years, and continued beyond that to get involved in community art events and fundraisers.
Sounds like it all led right into your work at Catharine Clark Gallery?
As the Registrar at Catharine Clark Gallery, half of my work pertains to the exhibitions at the gallery, of work by artists in our program, while the other half focuses on exhibitions that those artists participate in at other venues, such as museums, art centers, and other commercial galleries across the world. I manage the gallery's database and inventory records, oversee installation weeks and often participate in hanging and de-installing each exhibition we host. I work with artists, clients, and institutions, regarding shows, sales, and general inquiries. I enjoy the hustle and the hard work pays off in many meaningful ways.
How did your studies at USF prepare you for a career in the art world?
I don't think I can emphasize enough how important my relationships with my professors were during my studies at USF, and after. They continue to be my mentors, advisers, and inspirations for so much of what I have done and what I strive to do. Studying at USF, then continuing to stay in San Francisco after my studies, helped me to network and build my personal and professional community in the art world.