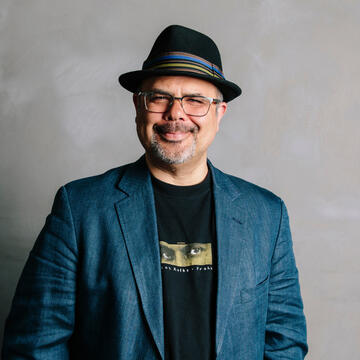 Pedro Lange Churión
Professor
Program Director
Full-Time Faculty
Biography
Professor Pedro Lange Churión is both an academic and a visual artist. He has written and directed various films, including Crocodile (USA, 2000). Based on a short story by Felisberto Hernández. This film received a Remmy Bronze award for best dramatic adaptation at the Houston International Film Festival (2001). He also wrote and directed Visitas (Colombia, 2005), a full-feature narrative film that explores violence in Colombia. This film has garnered recognition as "Official Selection" in international festivals: Montreal, Toronto, Austin, Chicago, Granada, Brussels, Fribourg, Cartagena, and others. He has also directed various documentaries and produced experimental videos for The Urban Unseen, a multimedia exhibit organized by the Architecture Program for the Thacher Gallery at USF. Currently he works on a large-format photography project for an exhibit in Madrid that will feature victims and activists from the Stolen Children crisis in Spain. During Franco's dictatorship, the Fascist state stole newly born babies from their mothers with the complicity of the church and the medical establishment. The practice endured until the 90's and there is an estimate of 300.000 stolen children in Spain.
He has developed numerous courses in film, literature and urban studies.
His academic areas include Latin American Literature and Culture, Film Studies, Urban Studies, Comparative Literature and Critical Theory with an emphasis on Psychoanalytic Critical Theory. He has developed and taught multiple courses for the university and co-developed programs such as the Film Studies Minor and the Urban Studies Program.
He has written numerous scholarly articles on world film and Latin American contemporary literature, these articles have been published in various refereed journals and magazines in the US, Europe and Latin America. The most recent publications engage critically the cinema of Pedro Almodóvar, the cinema of Lucrecia Martel and European traveling literatures. He has co-authored and co-edited a book, Postmodernity in Latin America: a Reader (Humanity Books, 2001). His article in this volume has been singled out as an important contribution in understanding the Baroque/Neo-baroque aesthetic in Latin America in its relation to the global discourse on Postmodernity.
Current research includes a collaboration with Prof. Tanu Sankalia on Epistemologies of the Global South and a book manuscript: Usurped: The Cinema of Shifting Identities. This last project is argues that films that feature shifting identities should be considered a sub-genre. Framing the argument within a psychoanalytical critical framework, the book will look at the ideological subtexts in the trope of shifting identities.
Selected Publications
Postmodernity in Latin America: a Reader, Humanity Books, 2001