A Meaningful Life for Others
Daniel felt right at home among faculty and students who shared his passion for social justice.
Image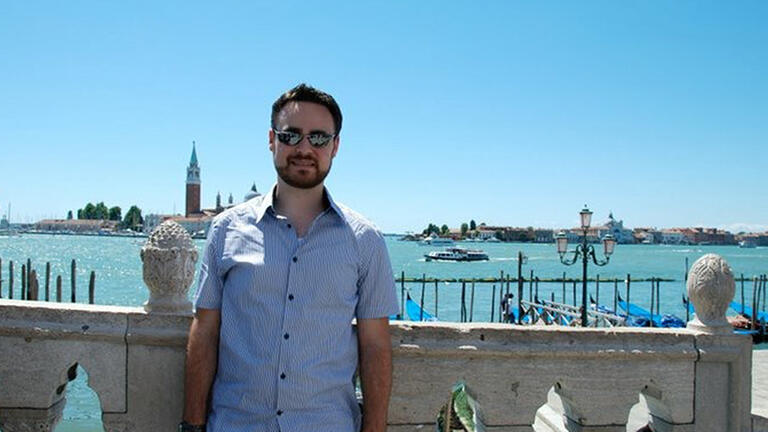 During undergrad, Daniel studied abroad in Mexico to help address the many challenges migrants face. This experience inspired him to pursue graduate programs where he could continue to make a positive impact.
"For as long as I can remember, I've always had an interest in making my life have meaning for others, and it was this motivation that pushed me to continue my education," he said.
When he started looking at grad programs, he said USF's Master's in International and Development Economics hooked him with its focus on social justice, fieldwork requirement, and faculty and students who shared his passion for helping others.
During the program, Daniel became interested in how institutions can encourage economic development through social norms. Italy presented an excellent opportunity to study this topic with its competing institutions — the church, the state, and even the mafia. So he traveled there for his fieldwork, examining the mafia's effects on entrepreneurship. During the course of his research, he created a mafia index estimating mafia prevalence in the country at a more detailed level than what had previously been available.
The fieldwork was the basis for his thesis, "Does the Mafia Suppress Entrepreneurship in Italy?" Daniel's thesis ended up becoming his first publication in a peer-reviewed academic journal, The World Review of Entrepreneurship, Management and Sustainable Development.
Fieldwork Launches Career
Publishing his thesis gave Daniel the opportunity to connect with professionals in the field who had read his paper — which, he added, was "a great feeling to know that other people actually read it, especially after all that work." It also allowed him to demonstrate his experience and skills to employers.
"The summer fieldwork experience was incredibly valuable," he said. "All the work that went into it helped me put research principles into practice and learn how to adapt when things inevitably don't go as planned. It almost certainly helped me land a career out of grad school, having had 'real world' experience."
Following graduation, he found a job as a research analyst for the Oregon State Procurement Office. Using the skills he honed in Italy, he designed and coordinated projects to measure the economic impact of initiatives for minority women, emerging small businesses, and others. He went on to become a senior data analyst for Multnomah County, Oregon, leading research and analysis projects for the Aging, Disability, and Veterans Services division. His crowning achievement during this time was developing an application to monitor insurance payments, which the County estimated would save more than a million dollars per year and allow many people to maintain their benefits. For his efforts, Multnomah County named him Employee of the Year in the category of innovation.
With such achievements, Daniel continues to advance his career in the economic sphere. As of August 2016, he started a new position with the State of Oregon, developing a program to optimize purchasing practices for information technology. The program's ultimate goal is to ease economic distress for disadvantaged communities and educational organizations, aligning with Daniel's ambition to make a difference in people's lives.
He credits the IDEC program with preparing him for a successful, meaningful career by building his skill set through hands-on experience and expanding the scope of his understanding in the field of economics.