Engaged Learning
Alum Tackles Economic Underdevelopment in Iran
Through its emphasis on fieldwork, USF's International and Development Economics (IDEC) program helped Elnaz Safarha MS '15 realize her goals of understanding and addressing economic underdevelopment, most notably in her home country of Iran.
A chance to gain real-world experience
Safarha said that when she was deciding where to pursue her master's degree in economics, she was intrigued by USF's program.
Unlike other schools, even Ivy Leagues schools, at USF you have the chance of doing fieldwork.
As part of the IDEC program, students research a developing country for their master's thesis project. Those who choose to write about an issue related to microeconomics — the study of economics at the individual (rather than national) level — are required to travel abroad to conduct fieldwork between their first and second year.
She said that fieldwork provides master's students with experience that goes beyond mere theory, and knew it would be a great selling point on her resume post graduation. Ultimately, she turned down three other schools in favor of USF.
Having been born in Tehran, Iran, Safarha knew she wanted to research her home country for her master's thesis. After traveling to the United States as a teenager, she said she was surprised by the large disparities between the U.S. and Iran, a country rich in natural resources and human capital, yet not fully developed.
"It took me a while to figure out economics was the key to answering my questions and the main path to understanding my country's lag in development. I chose to study International Development Economics because I believe conducting rigorous research could be productive in closing the development gaps in developing countries like Iran."
Getting children off the street and into school
For her fieldwork, Safarha wanted to study Tehran's "street working children" — children who work at home or in the streets, often as peddlers when they're younger and moving on to more difficult work when they're older (for example, many of the children in Safarha's sample worked at central Tehran's slaughterhouse). Girls often engage in domestic work including housekeeping, cooking, and childcare. According to the United Nations Children's Emergency Fund (UNICEF), 11.4 percent of children ages 5 to 14 in Iran work to contribute to their families income so they won't fall below the subsistence level.
With the understanding that education plays a significant role in economic development and growth at both the micro and macro level, Safarha wanted to see whether she could boost school attendance for these children using non-monetary incentives — specifically, ice cream. The larger goal was to influence policy makers to redirect funds to more cost-effective approaches for enhancing school attendance.
"I love working with children. I believe when you step in their world, your mind is 100 percent dedicated to them," she said.
I believe in order to improve social welfare in any developing country, early childhood development and educational attainment are the main factors.
In preparation for her research, she wrote a proposal explaining her research questions, assumptions, expectations, and methodology. Having grown up in Iran, she had developed valuable connections there, including with employees at UNICEF, and shared her proposal with them.
They introduced her to the executive manager of an NGO called the Iranian Society of Protecting the Rights of Children (IRSPRC), which was working specifically on getting street-working children back in the classroom and combating child labor. The NGO's school provides free education for children in poverty, and is centrally located to make transportation to and from home easy. Their goals complemented Safarha's research perfectly.
"The executive manager of IRSPRC was so excited about my project when I explained it to her over the phone. She promised me their full support and collaboration," Safarha said.
When she arrived in Iran, the executive manager introduced Safarha to the school staff and asked them to fully collaborate with her. But at first, they were reluctant to do so.
"It's really funny. The school staff were not really friendly the first day we met. They told me later that they thought I was a complete stranger coming from the U.S. to fill out some surveys without helping the children. But, once they became familiar with my project and saw the excitement among children the first day I made ice cream for them, they treated me as if I was one of them."
A little ice cream goes a long way
Over a seven-week period, Safarha conducted behavioral surveys with the children and asked them to draw self-portraits to see what impact, if any, the ice cream incentive had on their behavior and attitudes. She observed that the children appeared less timid and anxious, while exhibiting higher levels of aspiration, trust, and confidence.
By the end of the experiment, average school attendance increased by 13 percent. Based on her econometric analysis, Safarha determined that her incentive had definitively caused this increase. She says that her research highlights the importance of incentives for changing behavior, and hopes it can serve as a launching pad for future studies.
Ultimately, Safarha wrote about this experience for her master's thesis, "Making Ice Cream in Tehran: A Field Experiment on the Impact of Attendance Incentives for Street Working Children."
She is grateful to the NGO and school staff for their support throughout the project and to her adviser, Professor Alessandra Cassar, who provided remote supervision during her fieldwork and helped her get approval to go to Iran, which is on the warning travel list.
Prof. Cassar believed in me and gave me the opportunity to have one of the best experiences of my life.
Safarha added, "Because of all of Prof. Cassar's endless support, the committee let me go to Iran and provided me the necessary funds to conduct the field experiment. She supervised me remotely the entire time, and made the experience less challenging."
Currently, Safarha is working with Prof. Cassar on writing a paper from her thesis that they hope to publish soon.
Equipped to lead and succeed
As she anticipated, Safarha's experience at USF ultimately did help her land a job. Right after graduation, she started an internship at IMPAQ International in Washington, DC, a company that provides strategic planning, research, and technical assistance to help governments, businesses, foundations, nonprofits, and universities enhance their programs and policies.
She said her field research in particular prepared her to work in a fast-paced international environment where things often don't go as planned. IMPAQ soon offered her a full-time position as a research analyst in their international division, which she was happy to accept. Similar to the work she did for her thesis, Safarha assists with educational attainment programs. So far, her projects have focused on improving school attendance, performance, nutrition, and hygiene practices among children in West African countries such as Senegal, Burkina Faso, and Mali.
"I have been utilizing everything I learned in the IDEC program," she said. "All of the development theories, rigorous methodologies, and analytical skills are helping me be better at my job.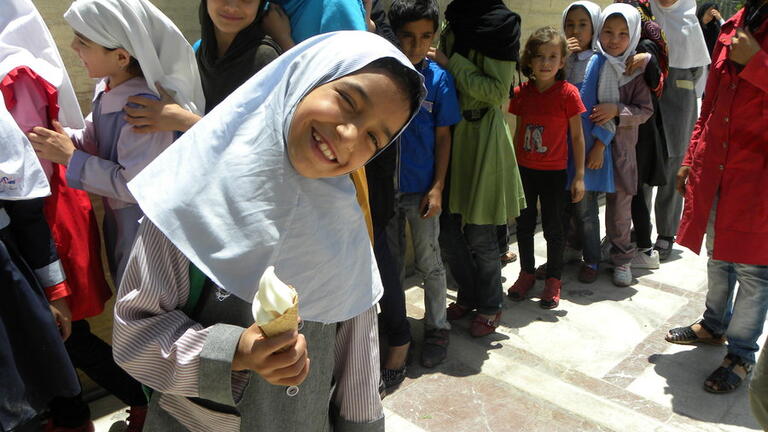 Elnaz Safarha MS '15 did fieldwork with schoolchildren in Iran for her IDEC master's thesis.