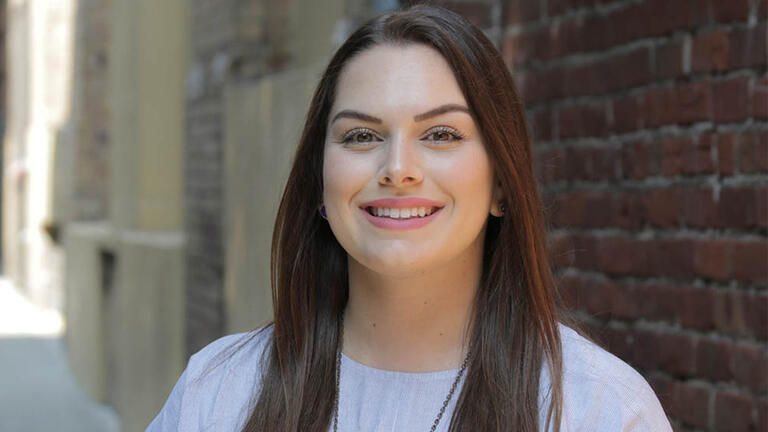 Saving the Environment with PR
The Data is Irrelevant if it Doesn't Resonate with the Public
Data in support of sustainability is plentiful and clear, but it's irrelevant if the public doesn't get the message. Environmental Studies alum Amelia Remeta '16 is hard at work on helping to craft that message. As an Account Coordinator in the Sustainability and Social Impact practice at Ketchum, a global public relations agency, her team leads communications, marketing, and media strategies for major corporations and conservation organizations, like Nestlé and the Monterey Bay Aquarium.
What's the job like?
I manage a lot of the behind the scenes coordination, but I also get great face-to-face exposure with our clients. One of my main sustainability and social impact accounts is the Monterey Bay Aquarium, and we work with them on media outreach around their efforts regarding climate change, fisheries and aquaculture, wildlife and ecosystems, and plastic pollution. We also work with groups like Nestlé's corporate social responsibility arm, AAA's community impact hub, and a sustainability-minded flash frozen vegetable company called Tommy's Superfoods, whose mission is to combat food waste in the US.
What impact do you want to make on the world?
My philosophy is that communications is one of the most important aspects of conservation and climate change mitigation. The data behind climate change is obviously important, but without delivering the message to the public in a way that resonates with them, the data is irrelevant. So, I want to be that messenger that drives campaigns that resonate with the public.
Actually, this philosophy was born out of the Climate Change Disinformation and Denial class I took with Professor Greg Lankenau my senior year. We learned the reasons behind why people think the way they do and how to get climate change messaging to actually resonate with the intended audience; it was extremely powerful. I'd say, in addition to a few other classes, it most directly sparked my interest in the communications side of environmentalism.
What were some of your favorite things about the Environmental Studies program?
The people. I met some of the greatest people in this program. My classmates felt more like family because the major is so small — we had all of our classes together and grew very close-knit over the course of four years. We camped together, gardened together, ate together, sat around campfires. It was a really special experience that most of my other friends at larger universities missed out on.
I also kindled relationships with the professors that I'll cherish forever. They truly care about us as students and individuals, want to see us succeed, and will do everything they can to get us there. In addition to Greg Lankenau, Professors David Silver, Rachel Lee and Melinda Stone also left lasting impressions on me. They instilled confidence in me, they made me feel like my voice mattered, and, over the course of the program, we became friends and still stay in touch.
What's your fondest memory of USF?
The community dinners. As part of the Loading..., we learned about various food systems and cooked the food we grew in USF's Community Garden and served it for free at a local church for anyone who was hungry. There's something so rewarding and profound about growing the food you eat.
The Loading... was also one of my favorites. We traveled around Marin County and Bolinas on the weekends and hiked, camped, and toured biodynamic farms which really elevated the notion of how interconnected everything is on the planet, from the people to the plants to the animals to the ocean, and so on.
And also, although these were both classes, they took place outside of a classroom, which was awesome.
What would you say to your freshman self, if you could talk to her?
I would tell her not to sweat the small stuff, and that her voice and opinions want to (and sometimes demand to) be heard.