Giving
Fostering Community and Connection
The Yuchengco Philippine Studies Program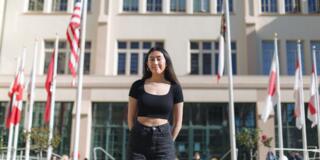 In 1999, the Ma. Elena Yuchengco Philippine Studies Program launched at the University of San Francisco — and USF is one of only a few universities in the nation that offers a minor in Philippines Studies.
The program was a way for the Yuchengco family to memorialize Ma. Elena G. Yuchengco, a USF alumna who graduated summa cum laude. Now known as the Yuchengco Philippines Studies Program (YPSP) the goal is to help Filipino-identifying students and students interested in Philippines Studies to deepen their knowledge of Philippines history and find community among other like-minded individuals. 
Mona Lisa Yuchengco, a supporter and close friend of USF, knew that her family wanted to create a Philippine program in higher education. Her father, Dr. Alfonso Yuchengco, a former Trustee who served nine years of leadership at USF, owned a college in the Philippines called Mapúa Institute of Technology. In his eyes, investing in youth and educating them to become a better generation was one way to make the country better. 
The Yuchengco Family established the Ambassador Alfonso T. Yuchengco Scholarship to encourage Filipino-American students to be more immersed in their culture, traditions, and community. 
Cultural Connection Through Philanthropy
Lisa recalls when she came to the United States in 1982. At that time, Filipinos were facing invisibility. "Diversity was still not a big thing in 1982, and most Filipino stories were not being told. And the public did not know who we were. In 1986, I started writing for the newspaper, and in 1992, I began publishing a magazine for Filipinos in North America. It was important that the outside world knew our stories, contributions, and presence here."
The Yuchengco family knew it was important to establish YPSP and provide a link for Filipino students to learn about their culture and legacy. Lisa said "It's important to not lose that connection, to remember where you come from, and to understand who you are. When you are an immigrant in this country, you help each other out, because you know you can't get mainstream support." 
Carlo Abaya '96, Lisa's son, graduated from USF as a business major alongside his brother, Paolo Abaya '95. Carlo and his brother grew up in the city and completed their education in San Francisco. He recalls that Filipino representation was missing. 
"There were representations of other Asian cultures," he said. "But nothing for Filipinos. Having the program and scholarship set up at USF gives us something to be proud of, and be able to expand my grandfather and aunt's legacy in a place that we love." 
Opportunity Creates Optimism 
Thanks to the Yuchengco family, Kayla Rivera '22, a recipient of the Yuchengco Scholarship, has found an education at USF that primes her for her career. "Because of the environment and the community, which is one that is extremely supportive, there is a plethora of opportunities for students to tackle and handle issues surrounding their own communities."
Kayla, a senior sociology major with a concentration in criminology, law & society and a triple minor in psychology, legal studies, and Philippine Studies is grateful for the support.  "It gives me an opportunity," she said."As not only a woman of color, Filipina, and Southeast Asian woman, this opportunity to further achieve my career goals, gives me a real sense of optimism."
Growing up in the Mission District of San Francisco, Kayla saw her father experience incidents of racial profiling and police brutality. Seeing her family experience discrimination at the hands of some members of police enforcement, motivated Kayla to pursue criminology and law. 
"I want to work in higher levels of government so that we can work on how to address police who abuse their power. I want to ignite change in police reform. It may be true that we can't get rid of racism and discrimination, but we can see change if we try." 
Although a lack of scholarship opportunities for the Filipino community continues to create a need for philanthropists such as the Yuchengco family, students like Kayla Rivera now have financial support to forge their own paths in community and scholarship at USF. Kayla knew this was an advantageous opportunity that would benefit her family and career. 
"USF creates community, and the environment enables me to progress in my education, and that's because I'm specifically at USF." 
Scholarships provide support to not only USF students but help families and communities. Make an impact, and consider a gift to scholarships today. This gift was made as part of Changing the World From Here: Campaign for the University of San Francisco.