Campus Life
Two Sports Trailblazers Share Tips for Success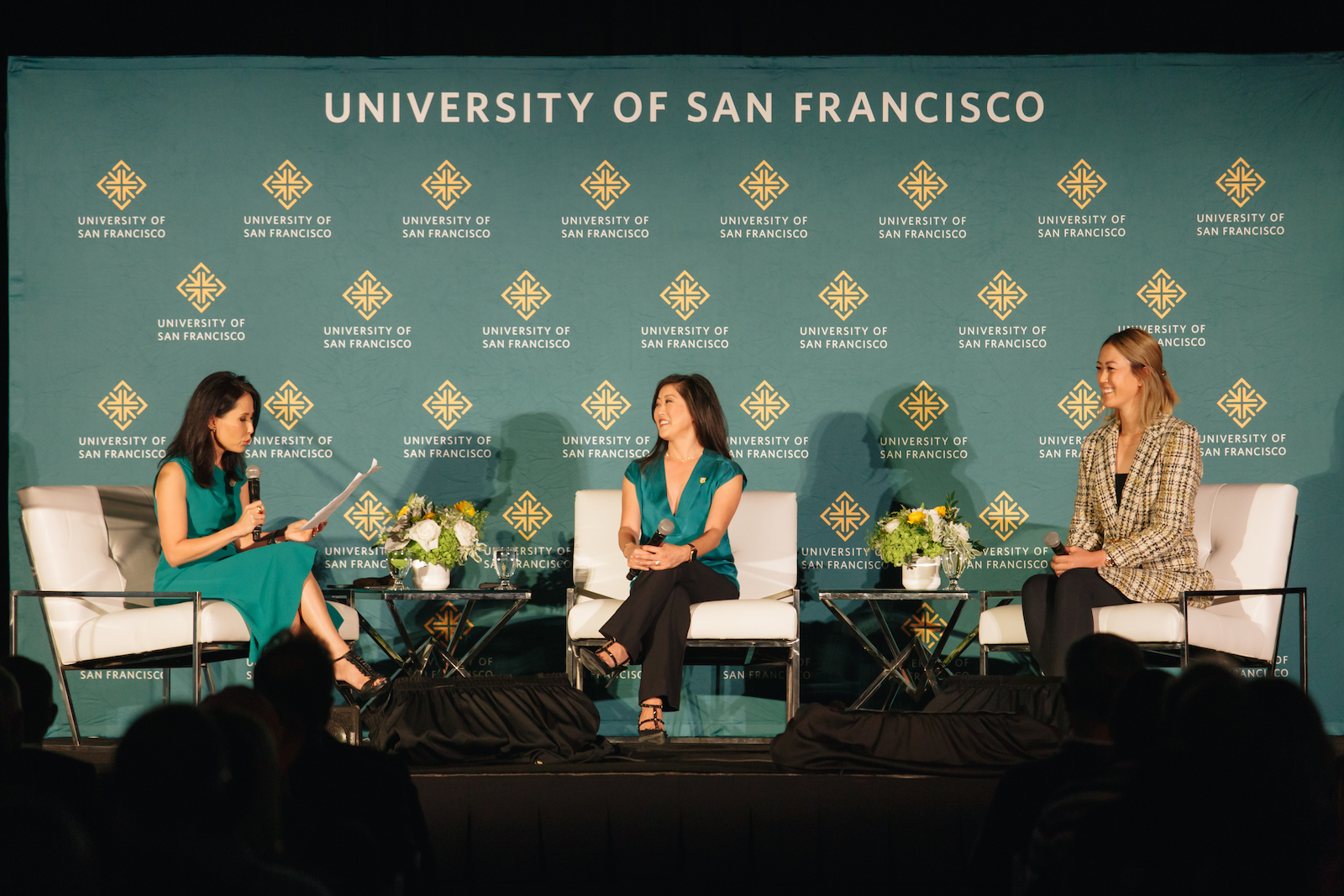 At the Silk Speaker Series event at USF on Oct. 17, figure skater Kristi Yamaguchi and pro golfer Michelle Wie West talked about motivation, inspiration, and mental health.
Persistence Pays
Yamaguchi told the in-person audience of 200 and online audience of 5,300 that she faced hard times early in her career. She placed second for three years in a row in the U.S. figure skating championships.
"I thought, 'If I can't even win the U.S. title, what are my odds in the world?'" she said.
Yamaguchi said making goals for every training session helped her to push forward. "Small accomplishments every day keep you going."
Also, she said, remember your passion for what you're doing even when you don't feel passion for it.
"You're going to go through some really challenging times when you hate your sport," she said. "If there's no love under there, you're not gonna get through it."
West said she sets small goals for herself, but steps back to look at the big picture, too. "I'm a big fan of dream boards with big dreams and stuff that you may not accomplish," she said. "Everything you do should work towards that goal."
Representation Matters
West started playing golf in 1993 at the age of 4, but "it wasn't until Se-ri Pak won the U.S. Open in 1998 that it clicked for me — like, wow, I can actually play this professionally," she said. "When you watch someone on TV doing the things that you do, but they don't look like you, it doesn't really click."
In 2003, at 13, West became the youngest player to make the cut at the U.S. Open.
When she suffered a wrist injury in 2019, and then struggled with her mental health during the pandemic, she was ready to quit golf, she said.
The key to finding the strength to get through that, said West, was reaching out to others.
"I would tell young people who are starting their careers: just ask," she said.
Also: believe in yourself.
"Believe that you're the entrepreneur in your own startup. If you invest in yourself, you're going to succeed," she said.
Family, Too
Yamaguchi and West both find solace with their families in hard times, they said, especially during the pandemic.
Yamaguchi's children helped her stay up to date. "They showed me how Zoom worked, and Google Classroom, and all those things," she said.
West was pregnant during the pandemic, and said she felt isolated and scared. 
"I learned that family is the most important thing, and also being able to vocalize how you're feeling," she said. "Simone Biles has opened up such an amazing conversation for other athletes."
Image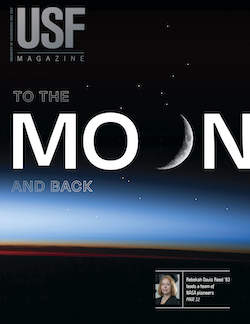 Featured in USF Magazine
This USF News story was published in USF Magazine, where you can find feature stories about university life, alumni Class Notes, and information about events at USF.