Equipped to Lead and Succeed
Veteran Provides Authentic Voice to Fitness Industry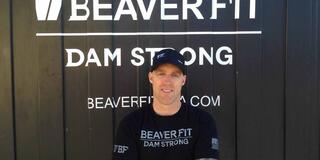 While many alumni from the University of San Francisco's Sport Management program go on to have careers in professional sports, Scott Wing MA '06 was able to translate his passion for personal training into a unique career in the fitness industry.
Wing, whose accomplishments include being an Ironman distance finisher and a California Triple Crown winner, worked for CamelBak Products, LLC for nine years before leaving to join a start-up called BeaverFit, USA. BeaverFit was started in the U.K. in 2010 and launched in North America in 2014.
As government accounts manager for BeaverFit, Wing sells world-class fitness solutions to the military, first responder and CrossFit communities. The company's biggest success has been developing a relationship with the United States Marine Corps. The Marine Corps partners with the National Strength and Conditioning Association to implement programs focused on functional fitness, for which Marines are instructed to lead platoons in High Intensity Tactical Operational Training. BeaverFit designs and manufactures shipping containers that are transformed into operational gyms that can be used during training to improve physical performance.
Wing served for the United States Marine Corps from 1995 to 2001 before returning to the University of San Francisco and completing his bachelor's and master's degrees. His background in the military allows him to serve as an authentic voice for a company that was founded by and supports veterans. Responsible for sales and business development within the military marketplace, Wing has added value to the brand through daily interactions with customers in the government and military channels and assisting with product assemblies and build-outs.
Wing was the first to note his interesting path thus far and credits the Sport Management program for helping him along the way. He remarks:
I have an obligation to pay it forward. There are so many things people have done for me in my career. Be open to change — changes in life and in your experiences. Put yourself in a position for people to help you. Everyone's perspective should be acknowledged but do not discount attachment to what you want. You will discover something you didn't know on this journey.
Wing believes that his current position is the perfect combination of his professional experience and personal philosophy. He plans to eventually relocate to South Reno with his family to be closer to the company's office in Incline Village, Nev.