Engaged Learning
USF Students Restore Endangered Species Habitat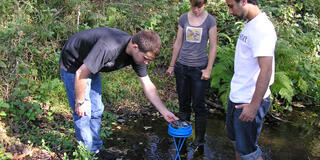 The students began by conducting environmental research on a fragile ecosystem in the Bay Area parks system. Now their research is being adopted by the national park system. Ecologists are using elements of the students' findings in their bid to restore the habitat of three endangered and threatened species in and around Marin County's Redwood Creek which winds through Muir Woods National Monument and pours into the Pacific Ocean at Muir Beach.
A Landmark Restoration
The habitat is home to endangered coho salmon and red-legged frogs as well as the threatened steelhead trout. Redwood Creek is the southernmost perennial spawning ground for coho on the West Coast, and the salmon that breed there are, according to the Golden Gate National Recreation Area (GGNRA), biologically unique.
The multi-year, multi-million dollar restoration project is nearing the end of the major earth-moving and bulldozing phase and will ultimately restore the creek's natural watershed and lagoon. That's where the creek meets the ocean and where young coho and steelhead feed in relative safety and grow in strength before returning to the sea.
"It's an incredible opportunity for USF students to see how a habitat is restored and also to learn the science behind such a landmark restoration," says USF's Gretchen Coffman, assistant professor of environmental science and environmental management.
Valuable Monitoring Data
Students in Coffman's California ecosystems and research lab classes have been part of this large-scale undertaking since 2010 and will continue to monitor its progress for years to come. USFers have already spent about 2,800 hours conducting fieldwork and hundreds more in the lab. It's a great lesson in learning while doing, as students identify hundreds of Northern California plant species that inhabit the area, collect riparian vegetation samples for the lab, and review motion-trigger camera footage to understand native wildlife patterns, Coffman says.
Some 20 USF undergraduate ecology and graduate environmental management students have conducted research over three years. Two of the graduate theses have produced recommendations that have been adopted by the GGNRA.
"Research conducted by USF students, under Dr. Gretchen Coffman's leadership, has provided us with valuable monitoring data on the restoration at Muir Beach," says GGNRA Natural Resource Specialist Carolyn Shoulders, who manages the Redwood Creek restoration. "We haven't had the manpower to devote to the work the students do, and their data has proved very professional and useful."
Sharpening Students' Research Skills
Park authorities are now installing protective fences around freshly planted flora on the creek's bank, after research by Jacqueline McCrory MSEM '14 and Coffman revealed that deer overgrazing was stunting plant growth. The plants, mostly willows, provide shelter and a cool spot for coho and steelhead to rest as they swim upstream during spawning season, as well as a safe haven for their young after they hatch.
"It was so rewarding to contribute research to help the National Parks Service and the GGNRA," says McCrory, who relished designing and conducting her own experiment. The experience was invaluable to her professional skill set and better prepared her as an environmental analyst, she says.
The park service is also coring riparian trees along the creek's floodplain, using a new method developed by Devin Barry MSEM '14 and Coffman. Coring helps scientists determine a tree's age and understand when the surrounding area flooded or experienced other major ecological events.
Armed with that insight, park supervisors can avoid building parking lots and park facilities that restrict the creek's natural flow — as farming and other human development did prior to the restoration.
Know someone with a powerful USF story? Let us know! usfnews@usfca.edu | Twitter @usfca