Equipped to Lead and Succeed
USF Olympian Pursues 2016 Games
Looking beyond podium wins, Sport Management sets stage for a career supporting athletes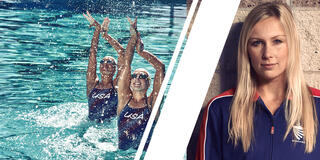 Swimmer Mariya Koroleva '17 could be headed for the Olympics. Again.
The Master in Sport Management student competed in synchronized swimming for the U.S. in 2012 and is gearing up for another shot at the 2016 games. Qualifiers for the Olympics aren't until April 2016, but Koroleva has already impressed crowds by winning two bronze medals in July's Pan American Games.
Koroleva discovered synchronized swimming when she was 9, six months after moving with her family to Walnut Creek from Russia. It began as a way to make friends and learn English, but soon became a passion.
A career with the Olympics
When she was 14, her coach told her father she'd be good enough for the Olympics, if she worked hard.
The prediction came true when she represented the U.S. in London. But the sports star knows she won't be a top athlete forever.
Her goal is to turn the Olympics into a career: possibly working for the United States Olympic Committee, International Olympic Committee, or with a marketing agency that works closely with the athletes.
USF's Sport Management program has propelled her in the right direction, she says.
"My USF degree will definitely help me launch into my future career in the sport management industry," said Koroleva. "Using USF's wide alumni network, I've already been able to meet and keep in contact with several individuals who have given me great career advice and have helped me learn more about the industry."
In fact, Koroleva's already putting her classroom skills to use. She recently became a member of the board of directors of USA Synchro, the national governing body of synchronized swimming. There, she has a chance to apply her USF knowledge — from suggesting marketing ideas to analyzing financial spreadsheets.
"It's been pretty cool to be able to connect the things we learn in the classroom to the real world," she says.
Many things to love about USF
And, like in her early days of swimming, Koroleva has found a special community at USF.
"There are many things I love about studying here at USF," Koroleva says. "I have really enjoyed the cohort system and getting to know my classmates on a deeper level. I've made some close friends here that I will likely have for the rest of my life."
Koroleva chose USF for a variety of reasons: It's close to home, the night classes allow her to continue to train and compete full-time, and the program came highly recommended.
She's also grateful to her professors, who try to accommodate her athletic schedule and even allowed her to take a few months off school this year. That flexibility may just prove invaluable as the Olympics approach.
Know someone with a powerful USF story? Let us know! usfnews@usfca.edu | Twitter @usfca