Giving
The Place You Can Call Home
Five questions with Aileen Becerra '21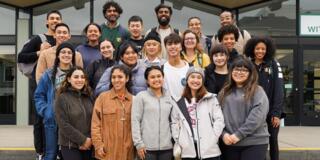 In May 2020, Aileen Becerra '21 joined me over Zoom to share her story in her own words with USF. Becerra is majoring in Latin American Studies and minoring in Spanish, Chemistry, and Fine Arts. After growing up in Mexico, Aileen came to the U.S. seven years ago. Aileen is a McGrath Scholar, a member of the St. Ignatius Institute, and is in the Honors College. As a first-generation student, Becerra's college experience has deeply meant a lot to her as well as her family. She is already changing the world from here.
Q: What influenced your decision to major in Latin American Studies?
A: Last year, I had the opportunity to travel abroad for an Arrupe Immersion experience in Colombia. I met women that were so proud and happy to be Latin American Studies Professors who knew about our history and representation. They were activists and members of the community willing to make changes and to advocate for the people. Growing up, I didn't know that Latin American Studies was something that you could make your own or something that you could make a career around.
Q: Tell me about your involvement with programs on campus and how have they impacted your USF experience?
A: I think that USF taught me that a lot of things are about what you love, and what you actually care about. USF teaches you more than actually just how to get a professional career.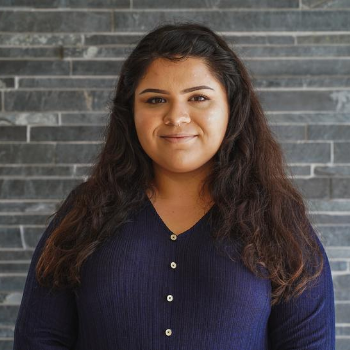 I applied to St. Ignatius Institute (SII) because I'm a first-generation college student. No one from my high school or from my city went to USF. I wanted to have a group of people that I'll call my family, my new friends. I have an accent, so that's something that a lot of people many times think is "weird." Even in high school, people were like, "You speak weird." In SII, I have classes with the same people, and people just got used to my accent. That allowed me to be myself.
I was involved in the Women in Science club in my sophomore year, where I met women in the sciences, a field where we are not usually represented. I had a professor who shared about how she asked for a raise by saying, "This is not what I deserve. This is not what my work is worth. If you want me to work the way that you want me to, then you need to pay me what I need to be paid." I feel like even if I don't end up working in the science field, just having that story in my mind telling me that I should never settle for less than I deserve is going to help me in the future.
Q: As a McGrath Scholar this past Spring, what did your group focus on?
A: After COVID-19 caused us to leave campus, we created a project about nutrition, called Health is Wealth to support people who were facing food insecurity, including a map for all the locations where the San Francisco Unified School District was distributing school meals.
Q: What are your dreams after graduation, and what legacy do you want to leave behind at USF?
A: I have a lot of dreams after graduation. I would really like to stay at USF and pursue a master's degree or go to law school to become an immigration lawyer. I hope that I can find a job, maybe in a nonprofit, and support students as well. One of the legacies that I want to leave is that I want to show that you don't need to be picture-perfect to do great things. I want to prove that you can do as many things as you set for yourself to do.
USF helps all students, in all their different situations. If you don't have the best English, if you don't have the best economic situation, if you have any disability, USF provides a lot of support. I have never felt different from anyone else because of having a scholarship or receiving financial support. I appreciate that 73 percent of students at USF are receiving some sort of financial aid.

You just have to find the place that makes you happy. Find the place that you can call home. USF for me is my home. I think that even after I graduate, it will still be my home.
Q: What does 'Changing the World from Here' mean to you?
A: 'Changing the World from Here' is about being a part of USF, it's about the small things that you do. At this moment there are a lot of students that have lost family members. There are lots of students, their parents don't have jobs anymore. When alumni, parents, and donors give to USF, it really shows me that even in the worst moments, people can still come together.
I am 'Changing the World From Here' because I had the opportunity to learn there is more to a profession than making money, how to be a kind and empathetic person that cares about the world, and someone that really wants to make a change.
Learn more about supporting USF students through Changing the World from Here: Campaign for the University of San Francisco »