Global Perspective
Students Tour South African Sporting Facilities, Impact Communities
The Sport Management South Africa study abroad elective provides students with the opportunity to network in a global setting.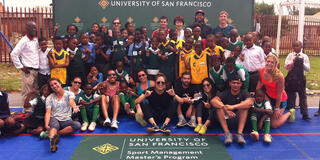 When students from USF's Sport Management program departed to South Africa for their elective course, they had no idea what type of impact the community at large would have on them; nor did they know the imprints they would leave behind on the people they met.
Sport Management students from both the San Francisco and Orange County Sport Management locations attended the 10-day immersion trip. They raised funds for urban youth in areas around Johannesburg and Soweto, and held high-level meetings with regional sporting executives. They also visited mega-event sporting facilities.
According to professor Michael Goldman who led the study abroad, students implemented what they have learned in the program to help raise nearly $3,000 to support youth development in poorer urban areas around Johannesburg.
However, that was not the only opportunity they were presented with to make an impact on the local community.

"In Soweto, the students invested in purchasing a DreamSeed Kit of sporting equipment for young learners at both Atamelang Primary School and Leitsibolo Primary School," Goldman said. "They then facilitated a soccer and netball festival for the excited beneficiaries," said Goldman.
Students were also presented with a unique opportunity to meet and invest in a group of baseball players who were overcoming substantial socio-economic difficulties in Alexandra, a highly-populated poor urban area.
Graduate student Danielle Brusnahan said she had never felt a bond like the one she experienced that day. She instantly connected with people through sport, even if she had never met them before or had trouble pronouncing some of the players' names.
The time they spend playing their favorite sport was a great escape for them, it was meaningful," said Brusnahan. "They had just a very pure love of the sport and the time we got to spend with them is difficult to describe. It was fun, captivating, and rewarding."
When Goldman and his students were not working in the community, they were meeting with a number of leading sport business executives in Africa and visiting iconic mega-event sporting facilities to learn more about the impacts of hosting large events.
Meetings included a visit to the NBA Africa office to discuss the NBA's development, media, and commercial program across Africa with NBA VP & Managing Director for Africa, Amadou Fall, as well as visits with SuperSport International, the largest subscription provider of sport content in Africa, and Errol Madlala, head of sponsorship for SABMiller, the world's second largest brewer.
Graduate student Eric Fischer said that on a 10-day trip like that, it might be cliche to say that you deepen your relationships with the people you travel with, but he found that couldn't have been more true.
As we experienced South African culture in the context of sport, we certainly gained a wealth of information, but more importantly we also deepened our relationships with each other, Dr. Goldman, and even members of the South African sports industry," said Fischer. "In an industry that relies so heavily on these types of connections, that experience was invaluable."
Goldman and the students visited five mega-event legacy stadiums and sporting facilities, including FNB Stadium (the 2010 FIFA World Cup Final venue), Loftus Versfeld Stadium (the home of the Blue Bulls Rugby team and site of the U.S. Men's National Soccer Team win over Algeria in 2010) and the High Performance Centre in Pretoria which helps train numerous Olympic medal winners and hosted the Argentinean team to the 2010 FIFA World Cup. At these venues, they investigated the multiple impacts that hosting a sporting mega-event can have on a region.
"There were a lot of experiences I never thought I would actually get to be a part of," graduate student Michelle Durgin said. "But although these fun moments contributed to an unforgettable trip, they aren't what truly made the trip. Rather it was the people we met and interacted with that made the experience meaningful and truly made South Africa a once in a lifetime experience."
Know someone with a powerful USF story? Let us know! usfnews@usfca.edu | Twitter @usfcanews