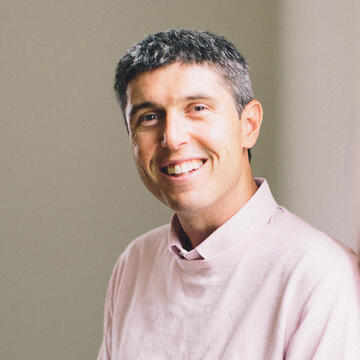 Michael Goldman
Associate Dean of Graduate Programs and Strategic Initiatives, and Professor of Sport Management
Associate Dean
Full-Time Faculty
Biography
Dr. Michael M. Goldman is a marketing and sales teacher, researcher, and advisor to organizations in the U.S., India, Kenya, and South Africa. From investigating how to retain baseball season ticket holders of the San Francisco Giants, to advising the MTN Group on leveraging their FIFA World Cup sponsorship, to developing sales skills workshops with the Los Angeles Clippers, Michael has worked with students, managers, and clients to enhance their abilities to acquire, grow and retain profitable customers. 
As an associate dean, Michael supports the portfolio of graduate programs in the College of Arts & Sciences, including working with faculty and staff to provide graduate education that accelerates our students' careers and empowers them to change the world.
In addition to teaching in the University of San Francisco's Sport Management master's program, Michael also holds an adjunct faculty role with the Gordon Institute of Business Science in Johannesburg and is the editor-in-chief of Emerald Publishing's Emerging Markets Case Studies.
Expertise
Sport fan and consumer behavior
Athlete, team or event sponsorship
Sport sales and demand generation
Sport marketing strategy
Research Areas
Sport marketing
Sponsorship
Case research
Appointments
Board member, Case Research Foundation
Education
Gordon Institute of Business Science, DBA, 2014
Gordon Institute of Business Science, MBA, 2005
Prior Experience
Member of the Host Committee of the 2018 Rugby World Cup Sevens tournament
Advisor to Rumble Ventures, Sports Innovation Fund
Senior Lecturer, Marketing, University of Pretoria's Gordon Institute of Business Science
Awards & Distinctions
Visiting Professorship distinction from Universidad Peruana de Ciencias Aplicadas, Lima, Peru, 2020

Best Case: Silver award from the North American Case Research Association conference for the case, "Scaling Columba Leadership's impact", 2019

Sarlo Prize Award, recognizing excellence in teaching based on the moral values that lie at the foundation of USF's identity, 2017

Best Case - Bronze at the North American Case Research Association conference for Super Bowl 50 case study, 2017

Recipient of a Paul R. Lawrence Fellowship from the Case Research Foundation, 2015
Selected Publications
Goldman, M. M., & Paller, J. W. (2023). The NBA's partnership with Rwanda. In S. Chadwick, P. Widdop, & M.M. Goldman, The Geopolitical Economy of Sport: Power, Politics, Money and the State, Routledge.

Goldman, M. M., Kleyn, N., & Mazinter, L. (2022). TymeBank in 2019: Chasing the millions. Case Research Journal, 42(1).

Goldman, M. M., Brown, B., & Schwarz, E. (2021). Collaborative Consumption Sport Hosting: Value and Consumption Constraints. International Journal of Sports Marketing and Sponsorship.

Goldman, M. M., Shah, G., Agha, N., & Esguerra, F. (2020). Warriors Gaming Squad: A marketing slam dunk or a long shot? (Case reference 9B20A076). Ivey Publishing.

Goldman, M. M., & Hedlund, D. P. (2020). Rebooting Content: Broadcasting Sport & Esports to Homes During COVID-19. International Journal of Sport Communication, 13(3), 370-380.