Global Perspective
Best-Selling Author Marie Kondo "Sparks Joy" at USF Talk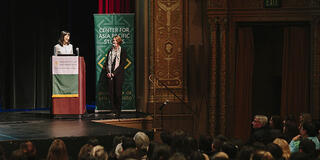 The USF Center for Asia Pacific Studies welcomed Marie Kondo, Japanese organizing consultant, author and visionary entrepreneur, to campus for a public lecture and VIP reception on March 6, 2017. Kondo spoke about the philosophy behind the home organizing techniques she wrote about in both her NY Times #1 bestseller The Life-Changing Magic of Tidying Up (2011) and her latest book, Spark Joy: A Masterclass on the Art of Organizing and Tidying Up (2016). Her message, promoting mindfulness and optimism, addresses more than just how to tidy up our homes, but also how to improve decision-making skills in order to live happier, more fulfilling lives.
Prior to the event, Kondo's appearance generated a lot of excitement both on-campus and off, with tickets selling out just days after going on sale. At a special reception held just prior to the talk, a few dozen VIP ticket holders had the opportunity to meet Kondo and have her sign their books as they mingled over hors d'oeuvres and wine. At the public talk immediately following, Presentation Theater's 468 seats were filled to capacity.
Kondo charmed the crowd throughout her presentation, directly engaging the audience with questions and interactive exercises that "sparked joy" throughout the theater. When Kondo playfully asked how many had read her book, a flurry of hands went up; when only a few could report that they had completed the process on their entire homes, a wave of laughter went up from the audience. Kondo's main piece of advice – to envision what an "ideal life" looks like as a starting point – inspired attendees not only to tidy up their surroundings, but also to begin changing their lives for the better.
The event was sponsored by San Francisco-based Tatcha which provided partial funding for the event and generously provided attendees with samples of their luxury skincare products inspired by Japanese geisha beauty rituals. The USF MA in Asia Pacific Studies program also contributed funding and the Consulate General of Japan in San Francisco helped with marketing the event.
Missed the event? Watch the video here.