Giving
Redefining the Education Space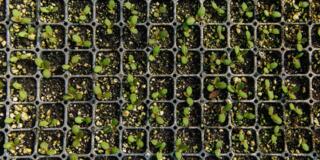 Beyond the hills and city skylines of the university's urban campus, there's a special place tucked away in Bolinas, California that's bringing the heart of USF outdoors. As Star Route Farms, the first certified organic farm in California approaches its fourth year under USF's ownership, the university community reflects on the impact it's already created thus far.
With funding support from donors, the farm was purchased in 2017 and has aligned with the university's efforts to create bold programs, a priority of Changing the World From Here: Campaign for the University of San Francisco. 
Not only does the farm boast 40 acres of organically farmed land and 60 acres of mixed-woodland habitat, it has also become an essential site for several multidisciplinary learning, research, and volunteer initiatives.  
Setting An Idea Into Motion 
Decades after Warren Weber founded Star Route Farms in 1974, he decided it was time to put the farm on the market. Community members in Bolinas, afraid that the beloved farm would be destroyed under the wrong hands, decided to take action. 
One of these individuals was Mark Buell '64, a Bolinas resident and member of the USF Board of Trustees. He was a primary donor and advocate for the university's purchase of the farm. 
"It made a lot of sense because there are so many lessons to learn there — how to take care of the land, how to grow crops organically, how to support small farms — and there were few universities around the country that had bought farms and integrated them into their curriculum," Buell said. 
After the purchase was finalized, hundreds of visitors from across the university made their way to the farm for class visits, extracurricular activities, professional workshops, and more. 
Advancing Education 
In addition to providing fresh produce across the San Francisco Bay area, Star Route Farms has proven to be a vital resource for recipients of the Star Route Farms Faculty Award (SRFFA). The SRFFA provides grants of up to $2500 for faculty members who are pursuing research, teaching, and service-related projects at the farm. 
Pamela Balls Organista, psychology professor, and interim vice provost, has provided oversight for academic learning initiatives at the farm and said, "It is a really rich opportunity to extend the USF experience beyond just the borders of our campuses. I pluralize campuses because we have more than just the Hilltop. There are many other places where student learning takes place." 
Naupaka Zimmerman, professor, and director of the Master in Biology program, can attest to that. He is a recent SRFFA recipient who has been working on the farm grounds and studying microbial organisms. 
"Being able to have a close partnership with a working organic farm has been a wonderful addition to both my research and teaching. The expertise of farm staff and their willingness to share the amazing place and history with the students has been great," Zimmerman said. "The types of ecological research projects it enables are a big leap forward for USF." 
Planting the Seeds for Change 
As we reintegrate community life back on campus, faculty are also in the process of reimagining what visits to the farm will look like in the future. April Randle, environmental science professor and faculty director of Star Route Farms, explained how crucial it is for students to regain access to the space. 
In May, when graduates of the environmental science program were asked what experience had the greatest impact on their undergraduate careers, almost all of them agreed that it was the outdoor field trips and hands-on, immersive experiences that they treasured the most. 
"We need to provide a venue for students to feel impactful and to feel like what they're learning and what they're doing is going to make a difference. When they get to engage with the farm, they have a stake in it and they feel hope for the future," Randle said. "The farm is an extension of our campus, our home. It's a way for us to make an attachment to a place that we can make better year after year, and we're only just beginning." 
If you are interested in learning more about the farm and research opportunities, contact April Randle, amrandle@usfca.edu. 
To support Star Route Farms and other university initiatives like this, consider making a gift in support of Changing the World From Here: Campaign for the University of San Francisco.