Equipped to Lead and Succeed
USF Grad Accepts Biden Appointment
Patricia "Patty" Barron '80 will support military families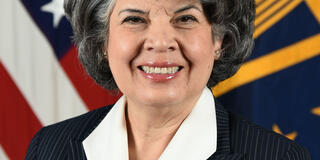 When the president of the United States calls, you answer the phone. That's what Patricia "Patty" Barron '80 did last winter when then President-elect Joe Biden called.
Barron was sworn in on Inauguration Day 2021 as the deputy assistant secretary of defense for military community and family policy (DASD MCFP). "It's a mouthful of a title, I know," Barron said. "But what an honor. It's such important work."
Her job is to support military families, and she oversees Department of Defense policy ranging from military and family support centers, child care services, youth programs, and family advocacy, to relocation, transition support, and deployment/mobilization services including casualty affairs.
The nursing and psychology double major said USF helped prepare her to balance such a wide range of responsibilities.
"USF taught me the meaning of giving, being present and involved wherever I landed, and bringing my talents to the table for the betterment of the community," Barron said. It's also where she got her start in the military, in a roundabout way.
A Sense of Belonging
Barron met her husband, retired U.S. Army Colonel Michael Barron '80, while both were undergraduates on the Hilltop. He was in ROTC, and after they married and graduated, he was commissioned a second lieutenant in the U.S. Army.
Patty Barron, who emigrated from El Salvador at the age of 6, said she had always felt like a bit of an outsider in her adopted country. Being part of an extended military community changed that.
"The Army life gave me the sense of belonging I craved, and I blossomed because of it," she said. 
Still, military life was not easy. Their three kids attended four elementary schools, two middle schools, and three high schools, and Barron had to create a home out of each new house with every move — 18 times in 30 years.
But Barron grew stronger with each move because she got involved. "I always volunteered wherever we were stationed. I volunteered for Army Community Service, Army Family Action Plan, Army Family Team Building, and in a variety of roles in spouses' clubs and unit activities," she said.
She also furthered her education.
Training for Leadership
Throughout Col. Barron's various deployments, Patty Barron earned a master's degree in education from Long Island University, an executive certificate in nonprofit management from Georgetown University, and an executive education certificate from the Harvard Kennedy School of Government.
She went on to serve as director or on the councils of various organizations supporting military families: the Department of Defense Military Family Readiness Council, Zero to Three's "Coming Together Around Military Children" Advisory Committee, the Sesame Workshop "Talk Listen, Connect; Phase Two" Advisory Panel, and others.
Now, under Patty Barron, the DASD MCFP has several goals: bring the voice of military families to the forefront of military concerns; diversity, equity, and inclusion in all aspects of her team's work; explore the "art of the possible" by thinking outside the box; and build teams at all levels of the organization.
She does all this "through a COVID lens. We need to understand what the long-term impacts of COVID-19 are on our military families and work accordingly."
Of her journey from feeling like an outsider as a child to being at the helm of an organization that serves as an extended family for the U.S. Armed Forces, Deputy Assistant Secretary of Defense Barron said, "I am so proud to be part of the military family community, and I am honored to serve them in this role."
Image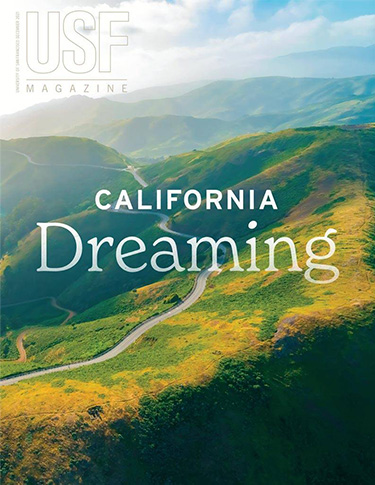 Featured in USF Magazine
This USF News story was published in USF Magazine, where you can find feature stories about university life, alumni Class Notes, and information about events at USF.