Giving
USF Parent Gives $1.25 Million for Nursing Scholarships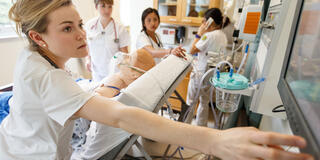 Retired businessman and University of San Francisco parent Park Loughlin has made a $1.25 million gift to scholarships at the School of Nursing and Health Professions.
The new Park Loughlin Family Endowed Nursing Scholarship provides a major boost to the school, which is highly competitive and provides the Bay Area's only program in health care education that serves students at the undergraduate, master's, and doctoral levels.
"This generous investment will support generations of future nurses as they apply their heads and hearts toward caring for patients and communities," said President Paul J. Fitzgerald, S.J. "I'm deeply grateful to Park for his extraordinary gift."
Deep respect for nurses
Loughlin's gift reflects a profound personal respect for the hard work and compassionate nature of so many nurses. He witnessed that firsthand after a ski injury once led to a six-week stay at California Pacific Medical Center.
"I'm just trying to help out a little bit — and to give a young nurse her chance to become what I saw in the nurses I encountered," Loughlin said. "I believe in encouraging kids to get an education. It's simple."
The gift comes at a time of tremendous growth for the school. Enrollment has more than doubled in the past decade, as Dean Judith Karshmer has added degree programs to meet the changing needs of an evolving health care system. These include California's first doctor of nursing practice program, and an online nursing master's degree in partnership with Bay Area health systems.
"We are a school on the move. We don't talk about what we are going to do, we do it," said Karshmer. "Park's generosity will empower many bright, deserving students on their path to becoming leaders in this field."
Meaningful support for students
Loughlin himself is a lifelong San Franciscan. He attended Notre Dame des Victoires and Lowell High School before serving in the Navy and enrolling at Stanford University.
His first experiences with USF came as a child, when he would watch Dons football games at Kezar Stadium. His son, Christopher Loughlin '92, studied English on the Hilltop. In recent years, Loughlin has studied symphony at the Fromm Institute.
Through his success as a distributor of animal veterinary products, Loughlin has given back to many institutions around the city, and to his own alma mater.
He hopes that by giving to USF, he can lend meaningful support to tomorrow's caregivers.
"In my 90 years, I've seen some time in hospitals. I met some of the finest people on earth there," Loughlin said. "My appreciation for nurses is just boundless."
This gift was made in support of Changing the World from Here: Campaign for the University of San Francisco.