Equipped to Lead and Succeed
Meet Phia Halleen '22
USF Sociology Grad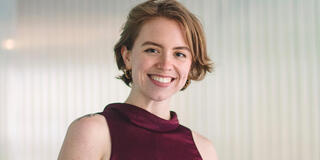 She talks about her work with Bay Area Community Resources and how her sociology major prepared her for this role.
Why did you choose USF?
I chose USF for the location and multidisciplinary program opportunities. The living-learning communities — Martín Baró Scholars and Esther Madríz Diversity Scholars — sealed the deal for me as I was looking for spaces that would challenge and uplift me as a student and person.
How did your USF degree prepare you for this position?
Two important lessons/skills I learned through the sociology program were 1) the importance of centering equity and 2) approaching life with an intersectional lens. I use these skills every day in my role with BACR. I wear many hats as a project/program coordinator and my sociology degree, as well as the other programs I was involved in during my undergraduate career, helped establish a strong foundation for my role. Sociology set me up for success in both my research and applied knowledge in the field. 
What impact do you hope your work in this field will have?
I work in youth development and tobacco control policy. For my six youth leaders, I hope they leave the program with professional and interpersonal skills that support their budding careers. On a policy level, I hope that my current project produces a San Francisco ordinance that protects youth and families from smoke in their homes. At large, I hope to continue to work in spaces that advocate for the wants and needs of youth and families.