Engaged Learning
Meet Your Professor: Noriko Milman
Part of a summer series on getting to know teachers at USF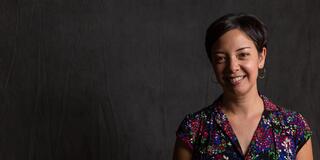 Noriko Milman, associate professor of sociology, talks about data, suggests visiting our own Jurassic Park, and welcomes new students to office hours — even if they're on Zoom.
What was your first job as a teenager?
I was a babysitter first and also worked at a clothing store called Kids "R" Us.
Why USF?
Prior to USF, I had only been teaching at large research universities. I missed having that deeper connection with students that a smaller university like USF really embraces.
What are the "aha" moments for sociology majors?
Sociology can give language and vocabulary to things we have experienced already or intuitively know. For example, most students inherently know that not all schools are created equal. In my class, we show maps of racially segregated cities — San Francisco, Detroit, and Los Angeles — and how that segregation impacts which K–12 schools students are going to attend. It puts our own experiences into context with actual data. It's not just about an opinion — we're linking personal experiences with actual data from studies about residential segregation, which can be very powerful.
Favorite place in San Francisco?
Golden Gate Park. It feels like Jurassic Park right across the street — without the dinosaurs.
Favorite app on your phone?
The Liberate meditation app for communities of color.
What does your average Saturday look like?
Walk to Balboa Street for brunch or a pastry, binge watch a show, catch up on grading, hang out in a hoodie and lounge wear, and maybe hang out with friends in the evening.
Any advice to incoming students?
For all students, especially first-generation students — congratulations! There are so many reasons to be proud. Don't hesitate to talk to faculty and staff. Come by office hours — or Zoom into office hours — and hang out; no reason to feel nervous or intimidated. Professors want to be here to actually teach and connect with students. Get to know us, and let us get to know you.
Connect with Professor Milman at nmilman@usfca.edu