Engaged Learning
Meet Your Professor: Nathan Dennis
Part of a summer series on getting to know teachers at USF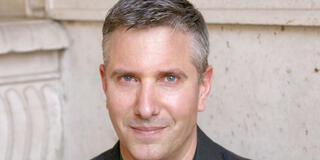 The assistant professor in the art history and museum studies program talks about driving a forklift, art as a vehicle for cultural values, and how a complex curry is like a good painting.
Which courses do you teach?
Islamic Art, Survey of Western Art, Early Christian Art, Medieval Art, Byzantine Art, Multicultural Middle Ages, Roman Art, Music & Art (a course through the St. Ignatius Institute) and a Museum Studies graduate course called Cultural Heritage and Social Justice.
What was your first job as a teenager?
I worked at a Pepsi factory. I started out doing delivery to grocery stores and eventually was in the warehouse driving a forklift.
What's something that would surprise people about this major?
It doesn't matter if you're studying ancient art or cutting-edge contemporary art — there's always an opportunity for art to be a vehicle for cultural values, religious heritage, personal identity, or social change. I teach about archaeological sites, cultural heritage monuments, and works of art that are endangered or were destroyed in conflict zones; conservation efforts and protectionist policies; the ethics of collecting and how museums acquire their collections. Our knowledge of the past—and quite often our window into the future—is preserved through the material artifacts that survive.
What are the "aha" moments for Art History & Museum Studies majors?
As you study art history and go back to a point of origin, you often realize that you're sharing this long arc of experiences with people from the past, and whatever you're going through now has likely happened to people centuries ago. It builds empathy. When you understand the human connections across time and culture, it helps you process your own emotions and responses to the current moment.
Favorite place in San Francisco?
The trails around the Sutro Baths, Mile Rock Beach, and the Lands End labyrinth. The labyrinth is an outdoor art installation by Eduardo Aguilera, and its location has some of the best views of the Marin Headlands and the Golden Gate Bridge.
Favorite app on your phone? Netflix or iTunes.
Comfort food?
Anything Indian. Complex curries that combine many different spices are culinary works of art for me. It's similar to a really good painting that uses a large color palette.
Advice to incoming students?
Don't be afraid to use your frame of references (where you are, who you are) to appreciate other cultures and time periods. Your own background and experiences are going to inform how you approach everything else around you, including people who have come before you and cultures that are no longer around. It's valuable to know who you are, and it will better inform and enrich whatever you're studying.
Connect with Professor Dennis at ndennis@usfca.edu