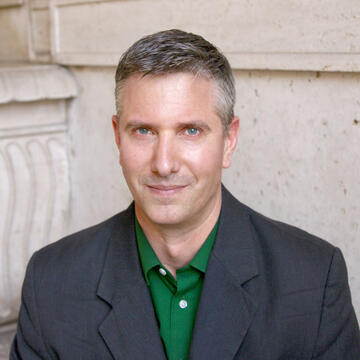 Nathan S. Dennis
Associate Professor of Art History and Museum Studies
Biography
Nathan S. Dennis is Associate Professor of Art History and Museum Studies at USF. He specializes in late antique and medieval art and theology, particularly of the Mediterranean and Middle East, including the material and visual traditions of Western Christian, Byzantine, Jewish, and Islamic cultures.
Professor Dennis has published a number of articles and book chapters on the art, architecture, archaeology, and theology of early Christianity, especially baptisteries and the ritual of baptism. He is currently completing two book projects and one archaeological report related to early Christian baptismal space. The first, Baptisteries of the Early Christian World, co-edited with Robin M. Jensen and Nathan P. Chase, is a two-volume catalogue and analysis of every known baptistery across approximately 40 countries in Africa, Asia, and Europe between the third and seventh centuries. The second book, Paradise Regained: Reconstructing Eden in the Early Christian Baptistery, is a study of the iconography and theological rhetoric of paradise employed in the early Christian baptistery, as well as the role that paradise played in early Christian conversion strategies across the Roman Empire and adjacent territories. Professor Dennis is also working on the final archaeological report of the early Christian baptistery from the Carthagenna basilica in Carthage, Tunisia.
Professor Dennis' additional research and teaching interests include ecology and environment in the premodern imagination; sensory experience in art and architecture; the reception and afterlife of Greco-Roman culture in the medieval world; the arts of immigrant and diaspora communities in Roman and medieval cities; cross-cultural interactions between Jews, Christians, and Muslims; ancient and medieval North Africa; and museum studies, especially cultural heritage policy development, collections history, and ethics.
Expertise
Ancient and Medieval Art, Architecture, and Theology
Cultural Heritage and Museum Studies
Research Areas
Late Antique Art and Archaeology (Roman, Early Christian, Jewish)
Medieval Art (Western, Byzantine, Coptic, Nubian, Ethiopian, Islamic)
Early Christian and Jewish Theology and Ritual
Appointments
International Center of Medieval Art, Digital Resources Committee Member, 2021-2024
Faculty Development Fund Committee Member, University of San Francisco, 2021-Present
Associate Editor, Convivium, 2020-Present
Scientific Committee Member, ABside: Rivista di Storia dell'Arte, 2019-Present
Advisory Board Member, Thacher Gallery, University of San Francisco, 2017-2021
Education
Johns Hopkins University, PhD in History of Art
Johns Hopkins University, MA in History of Art
University of Oregon, BA in History of Art (Honors)
University of Oregon, BA in English Literature (Summa cum Laude)
Awards & Distinctions
University of San Francisco, Jesuit Foundation Grant, 2020-2021

University of San Francisco Graduate Student Organization Advisor of the Year, 2020

University of San Francisco Davies Forum Grant, Fall 2020

Rome Prize, American Academy in Rome, 2014-2016

ARCS Fellow, American Research Center in Sofia, 2014
Selected Publications
With Robin M. Jensen and Nathan P. Chase. Baptisteries of the Early Christian World. 2 vols. Leiden: Brill, forthcoming. 
"Vessels of Holy Fire: The Censer and the Womb of the Mother of God in Early Byzantine and Coptic Devotion." In Holy Smoke: Censers Across Cultures. Eds. Beate Fricke and Ittai Weinryb. Munich: Hirmer, 2023. Forthcoming.
"Welcome to Paradise: Threshold Mosaics and the Spiritual Geography of Eden in Early Christian Baptism." In Proceedings of the 14th Conference of the Association Internationale pour l'Étude de la Mosaïque Antique, Nicosia 15–19 October 2018. Vol. 1. Ed. Demetrios Michaelides. Athens: ΣΗΜΑ Εκδοτική, 2023. 262–277.
"Nature Tamed and Framed: Reimagining Paradise in the Early Christian Baptistery." In Baptême et baptistères : regards croisés sur l'initiation chrétienne entre Antiquité Tardive et Moyen Age. Eds. Béatrice Caseau, Vincent Michel, and Lucia Orlandi. Paris: Presses Sorbonne Université, 2023. 189–212.
"The Aesthetics of Prosthetics: From the Premodern Uncanny to the Postmodern Imaginary." In The Routledge Companion to Art and Disability. Eds. Timothy W. Hiles and Keri Watson. London: Routledge, 2022. 358–384.
"Optical Games and Spiritual Frames: A Reassessment of Imitation-Marble Mosaics in Late Antique North Africa." Convivium 8 (2021): 2–20. Special volume, Objects Beyond the Senses: Studies in Honor of Herbert L. Kessler.
"A Tale of Two Inscriptions: Tipasa, Djemila, and the Role of Textual Icons in the North African Cult of Saints." Mosaic 47 (2020): 20–32.
With Vladimir Ivanovici. "Light, Vision(s), Transformation. Experiencing Baptism in Canopied Fonts (ca. 230–ca. 500 CE)." Hortus Artium Medievalium 26 (2020): 97–108.
"Bodies in Motion: Visualizing Trinitarian Space in the Albenga Baptistery." In Perceptions of the Body and Sacred Space in Late Antiquity and Byzantium. Ed. Jelena Bogdanović. London: Routledge, 2018. 126–149.
"Living Water, Living Presence: Animating Sacred Space in the Early Christian Baptistery." In Holy Water in the Hierotopy and Iconography of the Christian World. Ed. Alexei Lidov. Moscow: Феория in association with Lomonosov Moscow State University, Institute for World Culture; the Russian Academy of Arts; and the Research Centre for Eastern Christian Culture, 2017. 89–119.