Equipped to Lead and Succeed
Meet Lamiya Cotton '25
Communication Studies Major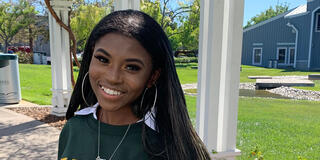 Why did you choose USF? 
I chose USF because of the faculty, class size, and major. As a communication studies major, our class sizes and professors have helped immensely when it came to me choosing if I was going to come here or not. I spoke to Professor Doohan before committing to USF and she was helpful when I needed some advice on if I was going to choose this major. Just knowing that she was willing to help me before even knowing who I was, allowed me to think that I was making the right decision of choosing this university.
How have your classes/professors prepared you for this internship?
One class in particular was COMS 202, Rhetoric and the Public Sphere. This class helped me understand the importance of language itself and how to use it in a positive way in the public sphere/society. With this marketing internship at Old Navy Headquarters, my other fellow interns and I were tasked with copywriting skills and presentation skills to pitch our ideas to CMOs and VPs of Old Navy. This course specifically helped me figure out how language weighs in all aspects of our conversations and how to use our language to effectively communicate our ideas and standpoints. 
How does this internship enhance what you've learned in the classroom? 
This internship has enhanced me to be more aware of how I communicate with others and working to share my ideas with others as well. Meeting new people who come from different backgrounds, places, and walks of life, communication studies has allowed me to understand different viewpoints and become a more well-rounded person as I further create meaningful and healthy relationships with my peers.