Campus Life
Meet Your Professor: Kim Carfore
Part of a series on getting to know teachers at USF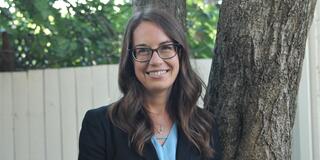 The adjunct professor of environmental studies and theology and religious studies talks about meditation, hurricanes, and how to build a fire.
Tell us about the environmental studies classes you teach.
I teach a class called Nature Immersion which is held entirely outdoors. We'll go to a farm in Tomales Bay, learn about plant and animal life in Point Reyes, or meditate by the ocean. I'm also excited to start a class called ecopsychology, about consciousness in the animal and plant world, ecoanxiety — mental health issues related to climate change — and more.
What was your first job as a teenager?
I was a prep cook at a pizza place. I answered the phones and made dough and sauce.
What brings you to San Francisco?
San Francisco is a very accepting and supportive place. It's a city where you can align yourself with greater social justice systems and explore your identity.
What's something that would surprise students about environmental studies?
How relevant it is right now. These problems that we're facing — climate change, wildfires, and hurricanes — are unfortunately going to continue. It's such a big problem that we need everybody to pitch in and make a change. If you want to feel empowered and feel like you're making a difference, environmental studies is the place to do that. We also care about building a community so that you're not doing this alone.
Comfort food?
Macaroni and cheese, hot dogs, or a rice and lentils dish.
What are the "aha" moments for environmental studies majors?
I teach a lesson on primitive fire making. You really see how much work goes into making a fire, with a tiny spark that takes a long time to put into the tinder bundle. When it bursts into flames, everyone gasps. This is the only form of energy that early humans had for a long time, before the world was run on fossil fuels. So, when we make fire together, students realize that the old ways that have been lost are still there.
Favorite place in San Francisco?
I love Lands End. There's something about the waves and glistening water that makes it feel so magical. I've seen dolphins there, too.
Advice for incoming students?
My dad always told me that education was something that people can never take away from you. The more education you can get, the more change you can make in the world.