Engaged Learning
Meet USF's New Head of Engineering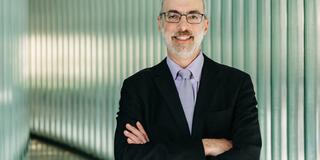 N. Jeremy Kasdin, the new assistant dean of USF's engineering program has a master's and PhD from Stanford and graduated with a BS in engineering from Princeton University, where most recently he was a professor of mechanical and aerospace engineering, with an affiliation in astrophysics.
How did you get interested in engineering?
I grew up in the 1970s, and I'm a child of the Apollo program. I was 6 years old when Apollo landed on the moon, and I wanted to be an astronaut. I've always been interested in the engineering side of things, and I've also always been interested in science. My career has been about doing engineering for science.
What was your first job?
I was a lifeguard at the Jewish Community Center in Rochester, New York. Actually, my very first paying job was running the food concession at the pool, because I was too young to be a lifeguard. At Princeton, as an undergraduate student, I worked in food service and I used to work mornings, making omelets. I learned to love to cook. I make a good steak frites sauce aux champignons.
What is something that people may be surprised to learn about you?
People are surprised that I'm an engineer but I'm really passionate about literature, theater, and the arts. For example, I really love Shakespeare, and I've always been involved in the theater.
Can exposure to the arts make you a better engineer?
Absolutely. All students — not just engineering students — can benefit from learning about art, literature, and theater, in addition to the technical side of their education. If you really want to create a citizen of the world, you have to make sure students have the technical training as well as a strong grounding in the humanities and arts. This is the type of interdisciplinary engineering education we are founding at USF.
What advice would you give your younger self?
Chill out. Take more time to smell the roses.
Favorite place in San Francisco?
Go to Lucca Deli and get a turkey sandwich on Liguria Bakery focaccia, with potato salad, and go sit at the Palace of Fine Arts and people watch and maybe stroll down to Crissy Field. Also, I love Coit Tower and the Filbert Steps, where I first spent time with my wife before we were married, when I was at Stanford.
Ocean Beach or the Jersey Shore?
Hawaii. I go there almost every year.