Meet Your Professor: Evelyn Ho
Part of a summer guide to getting to know teachers at USF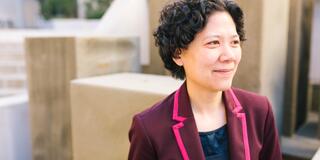 Evelyn Ho — professor of communication studies, Asian Pacific American studies, and critical diversity studies — talks about solidarity, pancakes, and finding your passion.
Tell us about your work.
My research and teaching are focused on the Asian American experience as it relates to communication and health.
My parents were immigrants, and when I was growing up as a second-generation kid in the 1990s, their experience wasn't something I valued. It was more something I tried to hide. It wasn't until I went to college and grad school that I started to appreciate my heritage and meet more Asian Americans who were conscious of their own ethnic and racial experiences.
Also, because there are so few people of color in Iowa, where I went to grad school, it was the first time I felt a kind of solidarity with people of color. It was transformative. I began to see the value of claiming identity as a person of color but also standing up for our rights and fighting against oppression.
What does your average weekend look like?
Volunteering at the food bank at our church, eating pancakes, going for a hike or (pre-COVID 19) indoor rock climbing at Planet Granite, gardening, and visiting family and friends.
What's something that surprises people about the critical diversity studies (CDS) major?
You don't have to have a particular identity in order to be interested in studying that topic. You might think, "Oh, I have to be Asian American, or black, or LGBTQ to take that class," and that's not the case.
Favorite place in San Francisco?
Any stretch of the coast on a sunny day when you can see the ocean.
What are the "aha" moments for CDS majors?
Sometimes furthering your cause means organizing protests and having large, public events. Other times a movement is founded on the millions of small, behind-the-scenes actions that are taking place below the surface — educating yourself and others, building collaborations across different groups, helping people be ready for action. This unseen, often unrecognized groundwork is what allows you to do all of the more public, direct kinds of work later.
Favorite app on your phone?
Right now, Duolingo. I'm trying to learn French.
Comfort food?
Watermelon.
Any advice for incoming students?
Genuinely meet as many people as you can. What is going to make college fun is finding that thing that becomes your passion, and you can do that through your circle of friends.
Connect with Professor Ho at eyho@usfca.edu.