Equipped to Lead and Succeed
Meet Emily Nhan '20
USF alum and Economic Health Care Researcher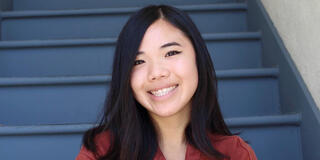 She describes her USF journey, her work to help make pharmaceuticals more affordable, and her goals for systemic change.
Why did you choose USF?
Originally, I chose USF due to its proximity to my family, its location in San Francisco, and the small and diverse student population. However, within my first year at USF, I quickly realized how much the university's mission aligned with my own passions and future impact goals, and was grateful that I chose USF for more reasons than I expected.
How did your USF degree prepare you for your current position? 
My education in economics and psychology at USF, especially in my senior year during the pandemic, helped train me to become oriented towards the adversities of underserved communities and motivated me to commit to a career serving those groups. I currently work as a research assistant at a nonprofit called the Institute for Clinical and Economic Review (ICER), in which I use my research knowledge to contribute to research reports evaluating the clinical efficacy and the "true economic value" of specific health care drugs, which as a result, could benefit less fortunate groups by helping lower costs and barriers to access for these health care treatments.
What impact do you hope your work in this field will have?
Ideally, through my current and future research work, I hope to contribute to systemic change and advance towards a more equitable world, where more historically underrepresented communities, such as BIPOC and LGBTQ+, are able to have their needs met. In particular, I aim to reduce health disparities for these specific groups.
Learn more about the Economics program Learn more about the Psychology program