Equipped to Lead and Succeed
Mastering the Madness: Alumna Directs Marketing, Logistics For NCAA
The madness of March Madness traditionally refers to the onslaught of 63 win-or-go-home games between the most talented of the nation's collegiate athletes over a three-week period where anything can happen. The administrative logistics for such an event is an entirely different madness, one that Sport Management alumna, Melissa Deckers ('11), has tackled yet again.
In her new role as Assistant Director of Marketing & Championships for the Big West Conference, Deckers coordinated with the NCAA at this year's Sweet 16 West Regional to ensure all media personnel, teams, coaches, and player's families were taken care of — all while directing the marketing strategies for the event.
The Road to the Madness
As an undergraduate at San Diego State University, Deckers found her love of college athletics while competing on the university's Division I soccer team. This led to internships in the fields of marketing and compliance.
After completing the internships, her mentor and a USF Sport Management alum, Lesley Fong ('03), introduced her to the program that would hone her for the career she currently enjoys, and she quickly benefited from the program's faculty, particularly Professors Richard Cellini and Dan Rascher, both whom Deckers highly admires and respects.
During the program, she was able to garner the experience she needed to chase her passion, a career in Sports Marketing, but, while the program certainly helped, it was not the only reason she succeeded. She says if she could leave students with one piece of advice it would be:
The program is what you make of it!
There are no guarantees; the program is only designed to create a fertile environment, to create opportunities. It's the student's job to seize them. Deckers has certainly made the most of hers.
Enduring Community
As an alumna, Deckers was quick to recognize the community the Sport Management program provides. As it has helped her, she now helps it by paying things forward. One way she does this is by managing the intern and volunteer program for the Big West Conference.
"We often invite USF students to be volunteers at championship events," Deckers said. "And they are always the best."
The Sport Management program has campuses in San Francisco and Orange County.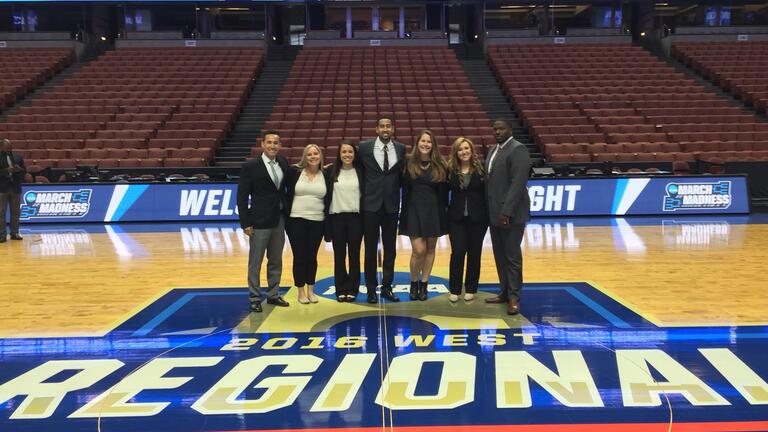 (left to right) Kyle Catino ('17), Megan McGarry ('12), Casey Parisi ('17), Chris Nelson ('17), Melissa Deckers '11, Alyssa Carillo ('14), and DeAndre Horn ('14).