Research
Kiriyama Professor Bridging Cultures Through Cross-Cultural Communication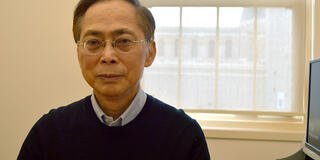 The Center for Asia Pacific Studies welcomes Dr. Tuen-yu Lau as the Kiriyama Professor of Asia Pacific Studies to the University of San Francisco for the spring 2018 semester. While in residence at the Center, Prof. Lau will lead a three-part workshop for graduate students focusing on cross-cultural communication and social media, present a public lecture on his research on internet regulations in China, and engage with the USF community.
Why did the University of San Francisco and the Center for Asia Pacific Studies attract you in-particular?
The USF Master in Asia Pacific Studies program has a comprehensive and unique interdisciplinary curriculum. I am excited to contribute to the program in my field of communication, which has been my research, teaching and professional interest for more than three decades. Additionally, I love San Francisco, which was my first port of entry when I came to the U.S. as a graduate student.
What are you teaching this semester at USF?
I am conducting a three-part workshop on cross-cultural communication using social media. This workshop will give the USF students first-hand experience in cross-cultural communication in terms of theory and practice. Cross-cultural communication is a very essential component in our professional and personal life. We live in the digital media age so students need to learn about social media and how they will be applied in our professional and personal activities. When we talk about cross-cultural communication and learning about the Asia Pacific, we cannot just lock ourselves in a classroom setting. We need the students to have direct contact and interactions with people outside the country. So, I talked to universities in Asia to invite students to take the workshop together with USF students. National Chengchi University in Taipei and Hong Kong Baptist University and City University of Hong Kong were excited to join us. We have about 30-40 overseas students joining the workshop by live streaming. I think this is perfect for the USF students. You learn about cross-cultural communication and social media, and then you practice that in the workshop. Students will submit a final project that involves working with students from these three universities
While you're with the Center for Asia Pacific Studies, what will your research focus on?
On May 2nd, I will give a public lecture about the use of regulations to control the Internet in China. This is a follow up to my presentation last fall at the Center's "Monumental Change in China" conference. I found 117 regulations related to the Internet in China. My research focuses on the person who originates the messages, the content of the messages, the channel used to deliver the messages, and how the receiver of the messages is monitored by the regulations.
Why did you choose to study communication and receive your Ph.D. in this field?
When I was a high school student, I was the editor of the school's newspaper, which started my love of journalism and communication. Then when I applied for college, I chose a major in social work, but ended up being recruited by a journalism and communication department. After four years, I decided that I liked being a journalist. I did not go straight from bachelor's to master's to Ph.D. Each time I took two or three years off to gain some practical experience to help me think about what I needed to do and the directions of my teaching and research focus. The more I got into this area, the more I fell in love with communication.
About Dr. Lau
Dr. Tuen-yu Lau was the founding director of the Master of Communication in Digital Media Program in the Department of Communication at the University of Washington in Seattle. He has been a communication professor at Purdue University and visiting professor at University of California, Los Angeles; Fudan University in Shanghai; Beijing Central University of Finance and Economic; and the University of Hong Kong. Dr. Lau served as a principal advisor for Indosiar Visual Mandiri in Indonesia, at that time, a brand new TV network. He worked with 50 foreign advisors to train 1,000 factory workers to become TV professionals. He worked as an advisor for an internet radio company in Silicon Valley to help turn the company from a revenue-loss to cash flow positive. Dr. Lau holds a bachelor's degree in radio and television broadcasting from The Chinese University of Hong Kong, a M.A. in communication from Stanford University, and a Ph.D. in mass media (integrating the study of journalism, telecommunication, and advertising) from Michigan State University.