Passion for Justice
How Sports Can Change the World
Panel Talks Lebron, Kaepernick, and Social Activism in Sports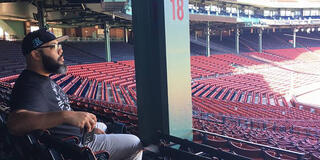 Competitive sports and social activism have long been inextricably linked — from the 1968 Olympics when John Carlos and Tommie Smith protested racial discrimination with a black power salute, to the 2014 Cavaliers-Nets game when Lebron James protested Eric Garner's death with an "I Can't Breathe" t-shirt. Athletes' long history of social demonstration is what inspired Sport Management alumnus Eddie Maisonet, III MA '16 to host and moderate a recent panel on these issues, called A Conversation on the Intersection of Sports, Social Justice and Activism in America.
Hosted by the Bay Area Black Journalists Association and The Sports Fan Journal, the panel focused on how athletes can have an impact on major social issues, and the potential consequence of taking — or not taking — a political stance. Of note, the panelists discussed the fallout of Colin Kaepernick's refusal to stand for the national anthem in protest of our country's discrimination and oppression of people of color.
Eddie, a longtime member of the Black Journalists Association and founder of The Sports Fan Journal, said Kaepernick's ability to "stay woke" — aware of the issues that involve you and your community, especially racism — in the midst of so much public and media scrutiny has been impressive and inspiring.
"Many felt empowered by Kaepernick's stand but were bothered by the lack of support from others in the athlete community," Eddie said. "Colin Kaepernick took a knee and now he's unemployed. There's a problem with this picture."
The panel explored how the tenuous nature of athletes' employment affects their ability or willingness to take action. It led to questions of why black stars like LeBron James and Carmelo Anthony are so often expected to speak out about social issues in America while white stars like Tom Brady, Aaron Rodgers, and Patrick Kane are dismissive of or dismissed from these questions.
"The reality is, sports provide a spotlight and many times, those athletes who choose to shine that light on the injustices of others become vilified initially, and are only appreciated after their beliefs become normalized," Eddie said.
The USF alumnus said the Sport Management program had a profound impact on the way he thinks about these topics. His classes with Professor Michael Goldman focused on ethics and politics in sports, and the way players, teams, and leagues can affect their communities.
"It's easy to turn a blind eye as an organization and act like police brutality and gender inequality doesn't have an effect, but many of the players and employees have to face those stark truths in their daily walk," he said. "To 'stay woke' to what's happening inside and outside the lines can have a profound impact on the morale in the organization and the bottom line."
He said that the Sport Management program helped him better understand the relationship between social activism and sports, inspiring him to champion social issues by participating in events like the Sports, Social Justice and Activism panel. It's his hope that the panel and events like it help bridge others' understanding of the issues facing their community.
Panelists included Lorenzo Neal, four-time NFL Pro Bowler and Radio Co-Host of 95.7 The Game; Jason Jones, Sacramento Kings Beat Writer for the Sacramento Bee; and Cephus "Uncle Bobby" Johnson, Oscar Grant's uncle and founder of the Love Not Blood Campaign. The panel was well attended and Eddie is hopeful they'll be able to host another one in the near future.
Keep up with the discussion on sports and activism by following Eddie on Twitter: @edthesportsfan.