Engaged Learning
How to Cook at Home
Tips and tricks from USF's favorite French chef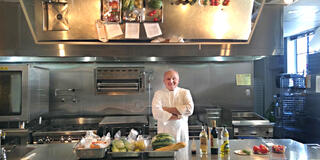 Chef Jean-Marc Fullsack, executive chef and instructor of the Hospitality Management program, has spent more than 20 years teaching USF students how to cook after a career in high-end professional kitchens. Now, he's teaching his classes via Zoom from his house and sharing some basic cooking tips for everyone who's spending more time in their own kitchens.
Chef, right now many people who've never cooked before are facing the kitchen for the first time. What are some of your most basic tips for novice cooks?
Cook food that you like, first and foremost. When looking at recipes, pick ones with the fewest ingredients that are also easy to find. The more ingredients in the recipe, the higher the likelihood that something will go wrong. Read the recipe carefully, and always visualize yourself cooking it. Actually, I recommend watching cooking videos on YouTube to see how it's done, versus going in blind. Cooking is divided into two parts: preparation and execution. During the preparation phase, you prep all of your ingredients and clean as you go. During the execution phase, focus only on the steps and don't get distracted. Maybe most important is to be patient with yourself. Cooking is an art, so don't lose hope if the first try doesn't meet your expectations. To master a recipe, you have to cook the same dish over and over and improve upon each attempt.
What are the pantry staples every new cook should have on hand?
Pantry staples I consider essential are healthy oils such as olive, avocado, cold pressed canola, or coconut oil for cooking. I recommend you stay away from corn and soy/vegetable cooking oil for health reasons. Having a bottle of balsamic, sherry, or wine vinegar is a worthwhile investment. Seasoning and spices are very important — I like to use both kosher and sea salt and a fresh black pepper grinder. A mini spice rack with cumin, chili flakes, nutmeg, and cinnamon can make a big difference in your cooking. I always keep shallots, onions, and garlic on hand. Flour and cornstarch, sugar, canned tomatoes, and vegetable and chicken stock. Finally, I believe you should have a basic inventory of pasta, lentils, brown or white rice, and quinoa.
Do you have any recipes that are almost impossible to mess up?
In my 30 years of experience, there are no foolproof, impossible-to-mess-up dishes. I've seen students cook sushi in an oven right before serving it. And if the laws of physics didn't exist, my wife could burn water. In cooking, one has to be present — especially when heat is involved at any stage of making the dish. I would encourage everyone to know how to make salads, simple pasta, sandwiches, baked potatoes, and cooked rice.
What's your favorite simple dinner?
Asking a chef to name their favorite simple dinner is like asking a parent or grandparent who is their favorite child. I like foods that are in season. My current favorite dinner right now is artichokes, steamed or boiled, with a homemade tartar sauce, glazed carrots with chai spice, and roasted cauliflower.
Any tricks a home cook can employ to improve easy dishes?
The first thing that any home cook can do to improve a dish is to simply get the highest quality ingredient available and know how to respect them. Never forget to season your food with salt and pepper and use fresh herbs to make the dish more vibrant if needed. Learn how to use flavor enhancers: Citrus juice and the zest of lemons, limes and oranges; sherry and high quality vinegar like aged balsamic; flavored oils such as truffle, chili, and sesame; flavored salts such as truffle, smoked, and garlic; and good quality soy sauce. Use hot sauce and/or chilies for heat. Finally, my last bit of advice is to understand what the main ingredient is, and treat it accordingly. Novice cooks have a tendency to overpower the main ingredient with too many flavors. An example would be using too much rosemary to flavor lamb — your dish will taste like a pine tree, not like the meat.