Passion for Justice
The Healing Power of Paint
Madeleine Kelly '10 helps her students use art to resolve tensions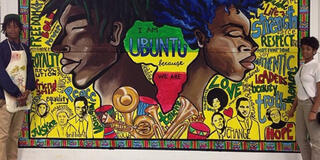 When students of different racial backgrounds fight in the corridors of their high school, what is a teacher to do?
Madeleine Kelly '10 picked up a paintbrush.
"When life gives you trouble, make a mural," Kelly said. Inside her art class, the students who fought in the hallways came together to suggest, conceive, design, and paint a mural called "Unidos Para Triunfar/Together We Overcome." 
In creating the mural, the students learned about each others' cultures and found common ground in their life experiences, Kelly said. "There was a sense of mutual respect, curiosity, and understanding that wasn't there before."
Kelly, an art history/arts management major, created a curriculum on mural art for her students at ReNEW, a charter school in New Orleans that serves under-credited and "over-aged" students, offering an accelerated model where they can finish high school in two years instead of four. In this course, students learn the history of public art and then create a mural.
USF influence
A class Kelly took with Professor Eric Hongisto influenced the way she works with young people to develop a mural. In his mural-painting class, USF students collaborated with elementary schoolchildren to paint a mural for their school in the Haight-Ashbury neighborhood. The USFers collected drawings made by the children and used a projector to combine the images into a visual story, keeping the original drawings' childlike quality intact in the larger design.
During that exercise, Kelly learned how murals, despite being a collective art, represent each artist. "I realized then that as someone facilitating a mural project, it's important to honor the original imagery and aesthetic of the artists and also the community that the mural serves — that we don't always need to intervene and 'fix' things," Kelly said. 
Challenging the idea of what kinds of art are considered important or valuable was something she learned at USF, Kelly said. When she travelled with her classmates to Creativity Explored, an art studio for adults with developmental disabilities, she learned that the joy of art can be made accessible to all, no matter their abilities or experiences, and how to nurture each artist's unique gifts.
"I still think about Creativity Explored in my own classroom," Kelly said. "My experiences there inspired the way I designed my curriculum, where I allow the space for each individual's strengths, even if they don't fit in with some people's perceptions of what 'good' art looks like."
Internships in the city
Kelly said that being in San Francisco enabled her to intern with world-class art institutions, including Precita Eyes Muralists, an organization that works to beautify urban environments and educates the public about community mural art in the city.
"At Precita Eyes, I saw the process of creating a mural with input and participation from the community, from concept to execution to maintenance and restoration," Kelly said. 
Classes at USF often involved visiting the city's museums and galleries. Kelly said she was drawn to organizations that involved the community and were centered around themes of social and environmental justice.
"In fact, my internships at commercial galleries and big museums helped me learn what I don't want to do, and revealed ways in which I'd like to see those institutions transform to be more accessible to the communities they represent."