Engaged Learning
Have Curiosity, Will Travel
Students stretch their minds with international education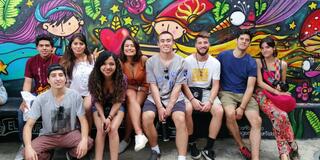 Chase Midyett '20 had only been to one other country — Canada — before setting off to study Spanish in Cali, Colombia his junior year.
Now the USF senior has the full-on travel bug, applying for programs to teach English abroad, and even for a Fulbright scholarship.
USF prides itself on its international network, which includes partnerships with universities abroad, a robust population of students from other countries, and campus events like International Education Week. Dons have an opportunity to take courses around the world, from Asia to Europe to Latin America. These are critical offerings for students who will need to learn to connect across cultures and perspectives, said Associate Vice Provost for International Initiatives Anastasia Vrachnos.
John Zarobell, chair of the international studies department, agrees. "The interdependence of our economic and social domains means that we feel a responsibility towards others whose fates are intertwined with ours. That is where Jesuit values meet international education."
For this story we spoke with three Dons whose connections to Colombia help them contribute to the university's mission of preparing students for a rapidly connecting world.
Leveling Up
For Midyett, the opportunity to study at Pontificia Universidad Javeriana, another Jesuit university, was not only a chance to grow his Spanish language skills, but also to grow as a person.
"A study abroad program pushes you to trust yourself more, to try more," said the media studies major who took several Spanish language classes at USF before his year abroad. "Being in Colombia, where all my classes were in Spanish, I was intimidated at the beginning. But pushing through that was an extremely rewarding process, and it made me want to continue speaking Spanish post grad — and even at USF."
This semester Midyett is taking a service learning course in which he uses his Spanish skills in San Francisco's Mission District, at a nonprofit that guides Spanish-speaking families through the college application process.
"There's no way I would have been able to improve my Spanish proficiency without the help of Pontificia Universidad Javeriana and the people of Colombia," he said.
Fear No More
School of Management Associate Professor Monika Hudson said another benefit to studying abroad is the chance to examine and extinguish stereotypes. Each spring break, Hudson takes her Family Business Immersion students to Pontificia Universidad Javeriana to study international business hands-on.
"For a lot of people, the first thing they remember about Colombia is Pablo Escobar. We talk about that before we even go," Hudson said. "Abroad, students make connections between one another and the community in Colombia. I'm constantly getting notes from former students saying, 'We went back to Colombia!' That fear that they might otherwise have had gets broken down."
While in Cali, the class visits a business incubator based at the university, as well as family-owned businesses.
"Students see how Colombia's emerging economy is moving toward an innovation economy, which is what the U.S. is," Hudson said.
The one-week immersion is a way for students to travel abroad when they might not be able to afford a longer trip. The Gellert Foundation, which funds USF's Gellert Family Business Resource Center, provides scholarships to offset some of the students' costs.
'Perfect Combination'
Diana Tovar MA '21 traveled the opposite direction to study abroad. She's from Colombia, and came to USF to earn a master's degree in migration studies.
She developed an interest in the dispossessed Venezuelan migrant population in her country while volunteering for a migration-focused nonprofit in Bogota. As an undergraduate, she took some time off to be an au pair in Marin County, and fell in love with Northern California — deciding that she'd look for universities in the area for a graduate degree.
She's glad she chose USF, Tovar said.
"Studying for a master's in migration studies in this university and this city is a perfect combination," she said. "It's like you're living what you are studying. I have friends from Ethiopia and Liberia who teach me about their countries and the migration crises there. It's awesome to learn from them. You're not learning from books; you're learning from people who have lived it."