Passion for Justice
Greener Ballparks, Better Communities
Sport Management Alumnus Improves Sustainability in MLB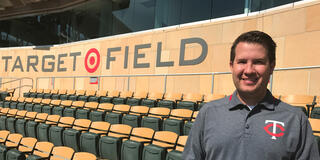 As manager of ballpark operations for the Minnesota Twins, Master in Sport Management alumnus Jase Miller '14 has helped make Target Field one of the greenest ballparks in the nation. In fact, under his management, Target Field received gold certification from Leadership in Energy and Environmental Design (LEED), the most widely-used green building rating system in the world.
During his time living and studying in San Francisco, Jase said he developed a natural comfort and understanding of sustainability efforts. So when he was first considering a job with the Minnesota Twins, he said he was very impressed by the organization's commitment to environmental responsibility.
"The opportunity to work for a professional sports team and have responsibilities in areas like sustainability was very intriguing," he said.
He remembers well the volunteers in USF's cafeteria educating students about recycling and composting, efforts he sees mirrored by Target Field's Green Team — a group that helps educate ballpark guests about recycling and composting as well as the Field's sustainability efforts. Interestingly, Jase's fellow Sport Management alumna, Tiffany Richardson, started the Field's Green Team.
But the Green Team is just a small fraction of Target Field's efforts that earned it gold status.
The Minnesota Twins use a Rain Water Recycle System that has captured, purified and reused nearly eight million gallons of rainwater, significantly reducing the Field's use of municipal water.
Since 2011, the team has recycled more than 3,000 tons of waste and composted more than 2,000 tons of organic materials, including beer cups, nacho trays, and plates. Overall, the team has diverted more than 8,000 tons of waste from landfills.
The team's sustainability efforts have also helped those in need. In the last season alone, Target Field donated more than 10 tons of prepared, untouched meals to local charities. Over the last five years, that's amounted to more than 200,000 hot dogs, brats, and other cased meats; 34,000 hamburgers; and 16,000 chicken breasts.
A Big Impact with a Far Reach
Target Field's extensive efforts speak to how much athletics can do to help both the environment and the community.
As Jase said, "I believe that the sport industry has a big impact on sustainability because it has the volume to make a substantial difference and the attention to educate a lot of people."
The Minnesota Twins are in a particularly good position to make an impact because of their far reach. "Twins Territory" extends to North Dakota, South Dakota, and Iowa. Fans from all over Twins Territory make annual trips to Target Field to watch the team play.
"When they visit and are exposed to things we're doing, it educates and inspires them," Jase said. "The more sport venues that grow their sustainable efforts, the more reach and impact it will have."
Jase is grateful for the opportunity to work for a professional sports team that's also making an impact on its community, and he's grateful to the Sport Management program for helping him get there.
"The Sport Management program at USF taught me a lot about the professional sports industry and introduced me to a larger network of sport management professionals," he said. "All my classes, professors, and classmates inspired me to take the leap into the professional sports world and prepared me for the innovative and growing segment of sustainability in sports."
For USF Sport Management students interested in sustainability in sports, Jase encourages them to attend the annual summit for the Green Sports Alliance, an organization that works with the Minnesota Twins as well as other professional sports teams and industry players to develop environmentally sensitive practices. The summit will be held at the Golden 1 Center in Sacramento this June.