Giving
A Generation of Innovators Inspired by Social Change
Five Questions with Kristal Franco '24, Engineering Cohort Student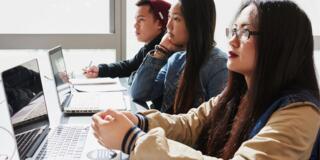 For Kristal Franco '24, the world is full of possibilities for positive change — it's just about finding the tools to make that change happen. As a member of USF's inaugural engineering cohort, Franco joins 29 other undergraduates who are inspired to Change the World through engineering and innovation.
After Franco was accepted into the engineering program, she felt inspired by the university's collective passion for social justice and change. But early into the school year, the pandemic left Franco's family in a state of uncertainty.
Franco had to assume more responsibility at home while also balancing school and work. Her family felt overwhelmed by financial obligations, and they questioned their ability to afford Franco's first year of tuition expenses.
However, Franco's financial worries were significantly alleviated after she was awarded the USF Marineau Women in Engineering scholarship earlier this semester.
The scholarship highlights the accomplishments of women who are taking the lead in engineering, a field that is traditionally represented by men.
For Franco, this gift has allowed her to continue striving toward her academic endeavors and she's eager to utilize this opportunity to create global change in the near future.
What does "Changing the World From Here" mean to you?
It means improving our community and making things run better for everyone. In a perfect world, there would be no hunger, no racism, and no extreme conflict. It would be a world where people are free to be who they are. I know that it may take years to find solutions for some of these issues, but why can't we start Changing the World right now, wherever we are?
Who is someone you know within the USF community who is "Changing the World From Here"?
My major advisor and the Engineering cohort are "Changing the World from Here." The Engineering cohort is amazing. We are a family. Since most of us have the same classes, we try to help and support each other. My major adviser, Hana Böttger, is the Department Chair of Engineering at USF and works hard to ensure that we are all supported during our transition into college, especially during these hard times.
What are your aspirations for the future?
I wanted to be a part of USF's Engineering cohort because of its emphasis on community engagement, Jesuit values, and supporting students. As future engineers, we want to know what's best for society and what will benefit people during changing times. In the future, I want to be a civil engineer. I want to help marginalized communities who are often overlooked. There are many systems and practices from the past that continue to hurt these communities. I want to move forward to the future and find ways to help alleviate these systemic issues.
How have you been impacted by the Marineau Women in Engineering Scholarship?
My family has been having a lot of financial issues as a result of the pandemic, so the Marineau Women in Engineering Scholarship has helped my family so much. It brought significant relief and I am grateful that I don't have to worry as much about financial issues. I can focus more on my studies.
What makes you proud to be a USF Don?
I am proud of our mission to Change the World. I admire that USF is trying to promote more positivity. I believe that at USF we become the best version of ourselves.
To support students like Franco, consider making a gift in support of the Engineering Program and Changing the World From Here: Campaign for the University of San Francisco.