Passion for Justice
Finding Strength in Stories
Student launches a club that uses writing to serve the underserved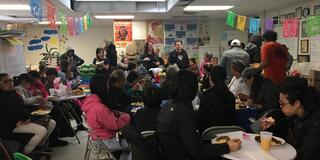 It all began with a pair of shoes lying on the sidewalk.
They were one of the first things Darcy Allred MFA '19, of Fairgrove, Missouri, noticed in San Francisco: shoes left for and by people who were living on the streets.
The shoes led her to people. And the people led her to examine economic disparities and homelessness.
"What can I do as a writer to address social issues?" Allred asked herself.
In 2019, Allred founded Pen to Power, a campus student organization for writers to address homelessness, gentrification, immigration, and other issues related to social justice. She graduated from the MFA in Writing program in December.
Words Empower
Pen to Power partners with the Coalition on Homelessness (COH), a nonprofit that works with homeless people in the city. In an effort to empower people who are homeless and tell their stories, Allred has collaborated with Meghan "Roadkill" Johnson, formerly homeless, to hold a writing workshop and publish an issue of Street Sheet, a COH journal that publishes works by writers who are homeless.
"A major part of our work includes going on outreach on the streets, to shelters, drop-in centers, and other places to keep tabs on how things are going for those unhoused and to build community," said Olivia Glowacki, project coordinator at COH. 
"Darcy has made herself a regular at A Woman's Place, the only 24-hour drop-in for women experiencing homelessness in the city. She's built relationships with the women there and interviews them for stories on homelessness with the idea of bringing political change."
Allred said that her Pen to Power club can do more.
"This is just the beginning," she said. "I hope Pen to Power will be something like June Jordan's Poetry for the People at UC Berkeley — an outlet for students, a space to address sociopolitical issues on and off campus."
Allred's efforts go beyond coaching homeless people on writing.
Last year, she asked Bon Appetit Manager Micah Cavolo to donate extra food from Market Cafe for a Mother's Day brunch at City Hall that fed more than 50 homeless mothers and their children. Alex Speeg, another MFA student and member of Pen to Power, donated 40 stuffed animals for the children.
USF Helps
The support of the MFA community at USF has been crucial at all stages in the formation of Pen to Power, said Allred.
"Both Laleh Khadivi and Doug Powell have influenced me with their down-to-earth teaching styles, and I have learned from Laleh what it means to be a teacher. Doug, the faculty adviser of the club, has been the go-to person whenever I felt overwhelmed and needed advice."
Allred also credits the campus atmosphere at USF, which encourages dialogue.
"USF supports speaking up for socioeconomic injustices more than other campuses would, especially as a private university in one of the richest cities in the nation," she said. "Surrounded by so much socioeconomic disparity, USF makes students conscious of how we use our privilege."