Alumni
Curriculum That Latinx Students Can Connect To
Five Questions With Professor Christina Garcia Lopez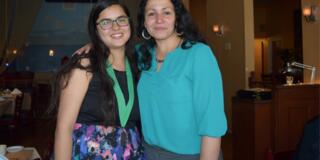 The CLS program gives Latinx-identifying students a unique opportunity to see their stories, communities, and cultures reflected in the course material, and educates the broader USF student population on the issues affecting Chicanx and Latinx communities in the United States. Professor Christina Garcia Lopez, director of the CLS program, reflects on the importance of providing Chicanx and Latinx-centered courses in higher education and celebrates the positive impact the program has created thus far.
What is it like to be the director of the CLS program? 
The opportunity to work with Latinx students, staff, and faculty, and those who care about the Latinx community, has been a fulfillment of the motivations that drive my career. I am constantly inspired and humbled by the love, devotion, and creative passion I see at work. Everyone I've met through this program is committed to using their own success to strengthen that of their communities, who have so often paved the way for them. 
How does the program uphold USF's Jesuit value of "cura personalis," caring for the whole person?
By not only acknowledging the political, material, and social violence that has affected our populations, but also the practical, epistemological, and spiritual tools our communities have utilized over the generations to heal, survive, and thrive. By honoring our creative strengths in an interdisciplinary context, from poetry and performance, to dance and music, to history and politics, and beyond.
Why is it essential for higher education institutions to provide learning opportunities like the CLS program? 
Our program benefits the USF community at large, as many of the courses we offer enable the increasing population of Latinx-identified students, whether or not they are CLS minors, to fulfill their core university requirements with content that speaks to their personal, familial, and cultural experiences. This connects them more deeply to their communities' histories and present-day realities, while also situating them as knowledge-holders. Such opportunities have proven incredibly valuable to reinforcing the educational success of students, especially first-generation students. 
What does USF's motto "Change the World From Here" mean to you? Is there someone within the CLS program who you believe is "Changing the World From Here?"
The motto echoes Chicana writer Gloria Anzaldúa's guiding words, "I change myself, I change the world," linking personal transformation to social and global transformation. She insisted "Nothing happens in the 'real' world unless it first happens in the images in our heads." So, we are here to change our own consciousness and conceptions of what we think is possible. Only when that happens can we truly change the world.
I'd like to take a moment to sing the praises of professor Roberto Varea, a professor of Performing Arts & Social Justice who serves on the CLS advisory board. Professor Varea not only teaches CLS students in classes such as Latin@ American Performance & Culture, but he also leads the Latin American Studies program and co-directs the Center for Latina/o Studies in the Americas (CELASA). His energy and enthusiasm, as well as his deep knowledge and experience, are instrumental to the work our program does.
What are your hopes for the future of CLS at USF? 
I would love to see our program grow, as we are always looking for more potential CLS minors. Whether or not you are Latinx-identified, increasing your knowledge and understanding of the particular contributions, challenges, and experiences of the Latinx community will be an asset, regardless of which profession you take up. There are countless ways that this minor can better prepare you to work in a society that is increasingly growing in the Latinx population. If you are interested in the CLS minor, I would be excited to advise you on how to effectively strategize your course options and work towards your goals.
To support programs like Chican@-Latin@ Studies, consider making a gift in support of the College of Arts and Sciences and Changing the World From Here: Campaign for the University of San Francisco.  Contact professor Garcia Lopez at cglopez3@usfca.edu.